Adopt a dog
Adopt a dog programme
We're always on the lookout for new permanent, loving homes for the wonderful dogs that come into Council's care.
These dogs, for one reason or another, are unable to be reunited with their previous owner, but would make great, loving pets.
All of our dogs for adoption have undergone a behavioural and temperament assessment by our experienced Animal Services Officers, are de-sexed, vaccinated, microchipped and treated for fleas and worms.
Any dogs in our programme for adoption are listed below. We take every adoption very seriously, so make sure you read the 'Before you adopt' information at the bottom of the page.
Adoption cost is $250.00 for a male dog and $280.00 for a female dog (includes vet checks, vaccinations, microchipping, desexing and flea and worm treatment).
If you are interested in adopting a dog, give us a call on 0800 926 732.

Adoption matching scheme
Did you know you can contact us if there's a certain type of dog you're interested in adopting? We'll put you on a register and if we receive a dog fitting your request we'll bypass the adoption programme and get in touch with you first.
To tell us what sort of dog you want to adopt - email customer.services@westernbay.govt.nz.
Before you adopt
Did you know that the average lifespan of a dog is approximately 12 years? Being a dog owner is a big responsibility. It requires a huge time investment and can be expensive. You need to consider whether you are willing and able to make such a big commitment.
We are looking for families who can give these dogs a loving, forever home. So before applying to adopt one of our dogs, please consider the following questions:
Can you afford a dog?
Dogs can be costly. They require adequate shelter, regular nourishment, health treatments, vaccinations and yearly dog registration. These costs can soon add up.
Do you know how to care for a dog?
Dogs require a lot of love and care. If you want to know more about how to care for a dog, one of our friendly Animal Services Officers can provide you with more information.
Do you have the time?
Dogs require daily exercise, plenty of attention, and regular grooming, obedience training and play.
Is your home suitable for a dog?
If you are currently renting you will need to gain permission from your landlord before adopting a dog. In addition, your property should ideally be fenced and you should ensure your dog is provided with enough space both inside and outside of the house.
Will a dog fit into your lifestyle?
How will your new dog fit in with your working hours, social life and other commitments? Will you have the time to provide your dog with daily walks and regular training, not to mention being home enough to keep your dog company? You should also consider who will care for the dog when you go away on holiday.
If after considering these questions you are still interested in adopting a dog - awesome! Check out the dogs available, and then contact one of our friendly Animal Services Team on 07 571 8008.
Become a dog foster parent
Western Bay Council saves and re-homes as many dogs as possible with our successful and rewarding dog foster program, but, we are needing the help and support from our community.
We need more foster carers to temporarily care for a dog while we find it's forever home.
If you are interested in fostering a dog, have a safe and secure property and some spare time on your hands to care for a dog, we would love to hear from you.
Full support and training to be a dog foster parent is provided.
For more information please contact our friendly Animals Services Team on 0800 926 732 or select this link for the application.
Current dogs available for adoption
Kahlua - Karly for short

Age: Approx 2yrs
Breed: Kelpie x
Colour: Dark chocolate brown
Size: Medium
Meet the lovely Kahlua or Karly for short. This beautiful natured little girl has had a hard beginning to life but has maintained her love of people and animals.
You can't tell from this photo but Karly only has three legs, that doesn't stop her though she can keep up with the best of them. She is very tactile and loves a good scratch behind the ears. She has bonded really quickly with her foster mum, she hasn't had any problems with Karly trying to run away.
She will need to be adopted by someone that has experience and patience with training dogs as she can be very skittish and anxious in new situations. Having a confident dog as well will go a long way as her foster mum has three dogs and Karly gets great comfort and confidence from them.
She is such a sweet, sweet girl who ever is lucky enough to adopt her will have a friend for life.
Roxy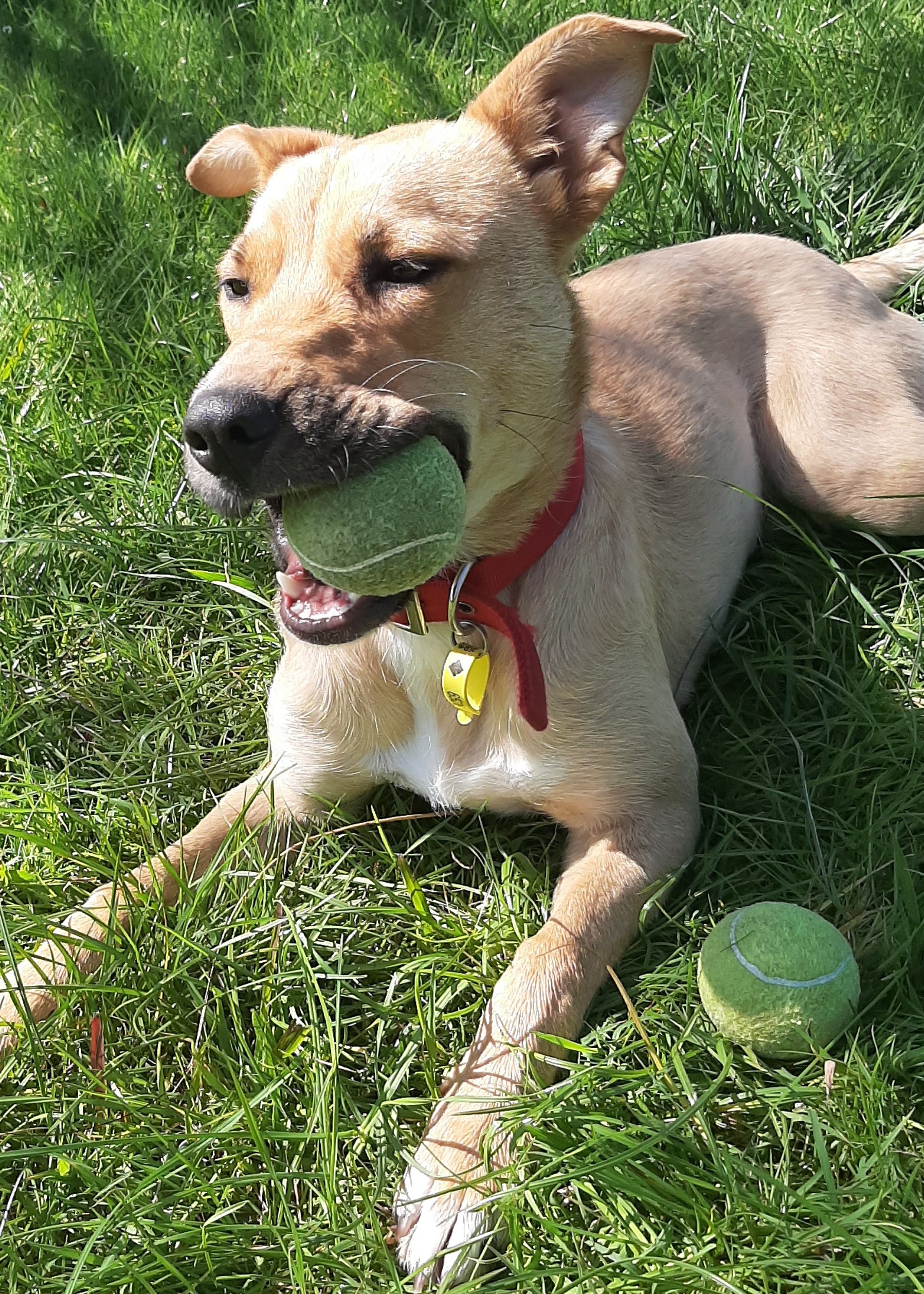 Age: Approx 7 months
Breed: Lab X Heading dog
Colour: Tan and White
Size: Will grow to be medium to large
Roxy will steal your heart!! She is a very sweet and lovable dog. This young girl has come a long way from the rough start she has had.
She is a lovely high energy dog, but also very trainable and is shaping up to be very good at agility stuff. She took to chasing the ball through the tunnel within seconds. She is both food and ball motivated. Once you've meet her you'll wish you'd called sooner.