Waihī Beach Trig & Forest Loop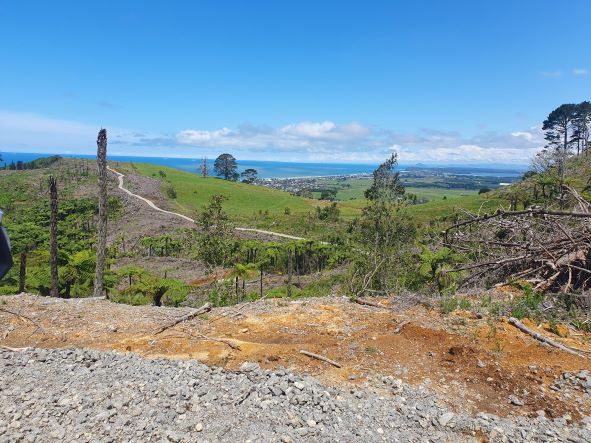 Getting there
Drive up Pacific Road, go left at the top, park the car in the water reservoir car park. The start of the Water Reservoir Loop is on the right of the reservoir. The Trig Walk and Forest Loop trails branch off the Dam Loop track near the bridge.
There are public toilets and water at this car park and the trails are dog friendly. However, dogs must be on leads toward the top of the reserve as there is farm stock present and in the past stock and calves have been chased into fences.
About the walks
Trig Trail to Lookout
45 minutes return
This trail is 3km return and has some steps and steep bits. Only the lower section of the walk is in the bush due to recent pine forest harvesting. These trees are being progressively replaced with native vegetation. At the top you will enjoy a spectacular view of Waihī Beach, up the Coromandel coast and east across the Bay of Plenty. The top section connects to the Forest Loop trail if you want to take the longer way back.
Forest Loop via Trig Trail
90 minutes return
Like the existing trig trail, the loop trail is accessed from the West Street car park (near the North End Dam).
The new loop takes approximately an hour and a half to walk (returning via the Trig trail) and it is quite steep in places. Take water and sunscreen as the top section is exposed/unshaded due to recent pine forest harvesting. New native plantings are being established in the coming years. There are many spectacular viewing points, higher than the Trig lookout, including through the native bush section. Please watch out for the trail team on your travels as work continues with surfacing and drainage improvements. Work site detours may be in place - please watch out for small vehicles and say hi to the team.