Lindemann Loop Track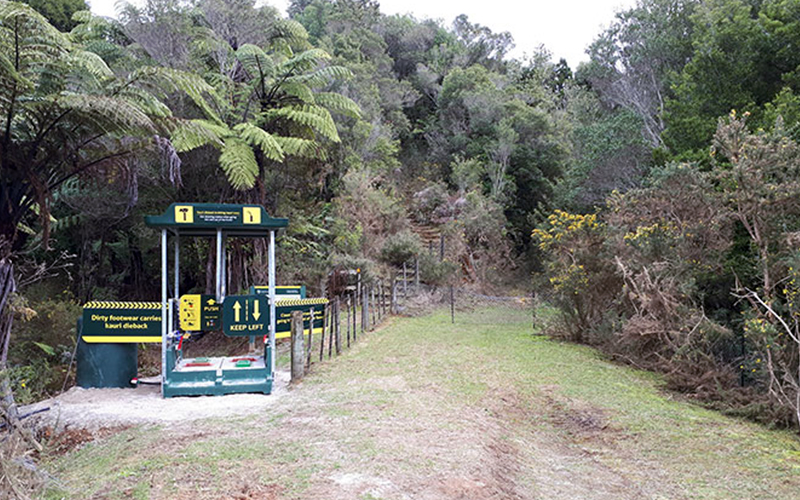 Getting there
Lindemann Road, off SH2 north of Katikati
At the end of Lindemann Road, you'll find the Lindemann Lookout. There is a small gravel parking area. To To reach the start of the tracks to the Kaimai Mamaku Conservation Park go through the gate and 100m west across the saddle – once the site of a Māori pā. Signs indicate the start of two tracks – Ridge Track to the left and Pack Track straight ahead.
About the walks
Ridge Track Kauri Dams
3 hours return
The Ridge Track enters the bush and climbs steeply to the ridge westwards. The grade eases as the track climbs and further on the track descends into the upper Wairoa Stream catchment.
About 75 minutes from the road the track passes an old Kauri dam. Continuing westward about 10 minutes is a junction. To the right is the Lindemann Road Pack Track which leads back to the road past the site of the old cookhouse of a logging camp, via the longer northern route.
Pack Track
5 hours return
Follow the Pack Track sign (take care not to confuse it with the farm track on your right). The Pack Track follows an easy upward grade, winding its way through bush gullies and emerging through scrub to overlook the Wairoa Valley and the distant Ananui Falls.
About 75 minutes from the road the track branches – to the right it leads down to Wairoa Valley. Continue to follow the Pack Track to the upper Wairoa Kauri dams.
The return to Lindemann Road via the Pack Track will take about as long as the upward journey. Returning via the Ridge Track is considerably shorter but much steeper down the ridge.