Rural Road Numbering
The following information is the NZ Post requirements for rural mailboxes
Your rural mail will be delivered if your mailbox:
has a minimum size of 400mm deep x 270mm wide x 270mm high, with a flag fitted to indicate mail is awaiting collection
provides access by a front-opening, non-locking hinged door and fitted with a mail slot large enough for large magazines to be placed inside without bending or opening the door. The mail slot should be no less than 250mm x 30mm. Mail should drop out of sight to keep it secure
is located to allow easy, all-weather access and positioned so your Rural Post owner-driver can reach it without leaving their vehicle. The best location may not always be by your gate. Its important you comply with local bylaws, traffic regulations and phone/power cable requirements. Please discuss your options with your Rural Post owner-driver before constructing your mailbox
has the street/road number of your property (if available) clearly printed on the box in numerals at least 25mm high. Local Authorities are progressively allocating numbers to all properties in their area and your property may already have a number allocated. If not, or if you would prefer to use your name, please feature your initials and surname, or company name.
The recommended height of your mailbox mail slot is between 1m and 1.2m from the ground. This allows easy and safe access without the Rural Post owner-driver having to get out of their vehicle.
You can buy a purpose-built rural mailbox from selected retail and hardware outlets.
Visit the NZ Post rural delivery page for more information.
Rural Road Number (formally RAPID)
If you were to experience a 111 emergency at your rural property, how easy would you be to find?
Back in June 2009, Council embarked on a district-wide audit of rural numbering in response to police, fire, ambulance services, residents and staff raising their concerns.
The system used by Council is known as RAPID (Rural Address Property Identification) and is worked out on the number of metres each property is from the start of your road to the entrance to your house, minus the last digit. For example, if your driveway is 2213 metres from the start of your road, your number will be 221. Odd numbers are on the left and even numbers on the right.
Entrances on SH2 between Tauranga and Katikati are measured from the roundabout at the intersection of Waihi and Cambridge Roads and are known as SH2 Tauranga West numbers.
Those beyond Katikati are known as SH2 Katikati North numbers. Entrances between Tauranga and Te Puke are measured from the Maungatapu roundabout and are known as SH2/Te Puke Highway West numbers.
Those beyond Te Puke are known as Te Puke Highway East. State Highway 29 entrances are measured from the Maungatapu roundabout, while the intersection of SH2 and SH33 is the origin of the SH33 numbers.
Shared Driveway (A,B,C...)
Driveway entrances that give access to more than one property will only have one number that applies. The first property accessed off the driveway is issued with suffix A, the next property is issued with suffix B and so on.
Private Road
Numbers are not allocated to individual properties that are on a private road. Council will only measure to the end of the Council roadway. Again, property owners should further identify their property by using A B C etc. Rural delivery numbers must still be used in your address e.g. R D 1, as well as your full road address.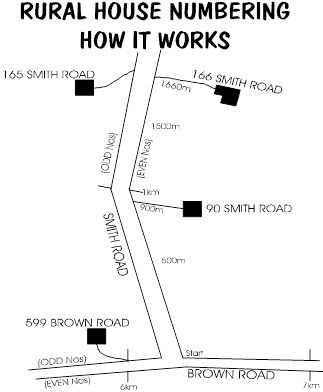 Rural Property Identification Numbering will enable the easy identification of your property for Emergency Services
If you have any concerns regarding your rural identification number, you can either contact Council by email or phone the Customer Services team on 07 571 8008.
Council is guided by Australian/New Zealand Standard 4819:2011. The objective of this Standard is to provide Council with a comprehensive guide that encompasses all aspects of rural and urban addressing. As such this Standard incorporates and makes references to a number of existing standards and jurisdictional guidelines relating to different aspects of addressing.
Application Form for Rural Road Number - Online Form
Land Information New Zealand - Website