Mobile Recycling Service
Here's what you need to know.
We are committed to helping our rural community with their waste minimisation efforts and we're starting by making it easier to recycle. We're launching a new mobile recycling service that goes to rural communities, who don't have access to kerbside recycling.
The service sees two recycling trailers travel between Pongakawa, Te Ranga and Omanawa. They stay in one location on Saturdays from 9am to 1pm when you can drop off recyclables, and they'll return in a fortnight.
At the end of the session the trailer and contents are removed for consolidation at our recycling centres, ready for its next scheduled outing. It's free for anyone to drop off their recycling.
Roster
Our mobile recycling trailers have a fortnightly roster each Saturday from 9am-1pm at the following locations.
Week 1, starting Saturday 1 October from 9am - 1pm:
BP Pongakawa, 1646 State Highway 2, Pongakawa
Omanawa Hall, 560 Omanawa Road, Omanawa
Week 2, starting Saturday 8 October from 9am - 1pm:
Te Ranga School, 1492 Te Matai Road, Te Ranga
Note: 9am-1pm are the summer hours. Times will change in winter.
Download the roster here.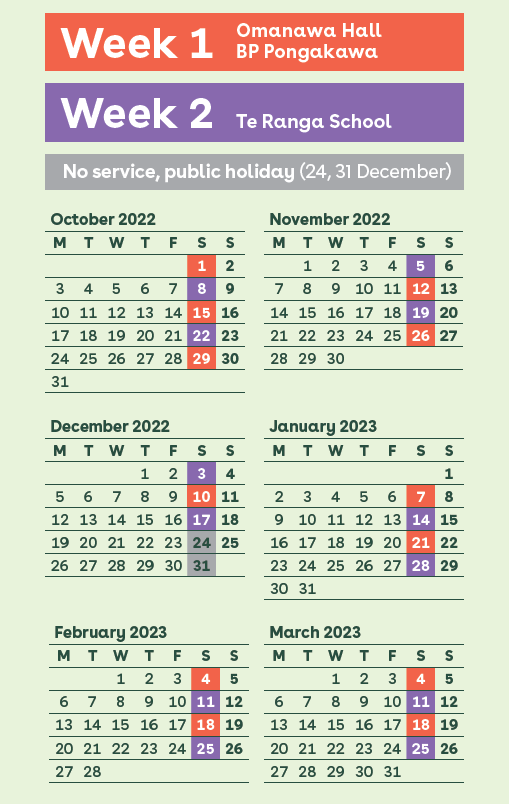 You'll be able to recycle:
Clean glass beverage and food jars - green, clear, brown (no lids)
Clean plastics -numbers 1, 2, 5 only (no lids)
Clean tins and drink cans
Flattened cardboard and paper
There will be a Council team member on site at all times to answer questions and help you sort your recycling.
The trailers have a limited capacity, so we can only accept kerbside amounts of recycling, this service is not intended for commercial use, stockpiled or large items like fridge boxes.
Why are we doing this?
We are committed to helping our rural community with their waste minimisation efforts. This service will primarily serve the rural residents who don't qualify for kerbside collection services, and have to travel a long way to get to a recycling Facility.
We know that people want to do the right thing, but we needed to provide them with an easier option for recycling. So we agreed to explore alternative recycling options for our rural communities through the Long Term Plan 2021-31.
This model for a mobile recycling service is also used at another District Council in Central Hawkes Bay.
Naming competition
Council celebrated the launch of the new mobile recycling service by running a competition to name the two mobile units. Competition winners, Sustainabox and Recyclosaurus Rex, will be proudly displayed on the trailers.