Waste Management and Minimisation Investigations
Changes to kerbside services
Western Bay of Plenty Council has plans to introduce a Council-contracted kerbside recycling and glass collection (paid in your rates) and rubbish collection (pay per pick up) across approximately 80 percent of the District, commencing in 2021. In urban areas, we'll also collect biodegradable food scraps (paid for in rates). Council made the decision alongside the adoption of the 2019/20 Annual Plan. We are currently working through the procurement of the services, working with service providers in the waste management industry to determine how the service will best serve the community.
Council will make a final decision on the service following completion of the procurement process in 2020.
We asked for your feedback in March and April 2019 about alternative rubbish and recycling collections.
Council has been investigating alternative recycling and rubbish collection models to achieve better oversight and management of solid waste and recycling throughout the District. The vision is to "minimise waste to landfill".
We completed these investigations and consulted on options for a kerbside rubbish and recycling collection service. As this introduces new services, the Long Term Plan has been amended to factor in the costs.
Kerbside rubbish and recycling
Council has decided to initiate procurement for contracted kerbside collection services, to cover approximately 80 percent of the District. This service is intended to deliver:
A kerbside collection for glass and recyclables, to become operational in 2021. The service will be funded by a targeted rate on those households serviced.
A kerbside collection for food scraps for urban areas only, to become operational by 2021. This service will also be funded by a targeted rate on those households serviced.
A pay per pick-up kerbside rubbish collection, to become operational in 2021.
The costs outlined below are detailed estimates, but will have to be agreed with a service operator. Costs below are GST inclusive.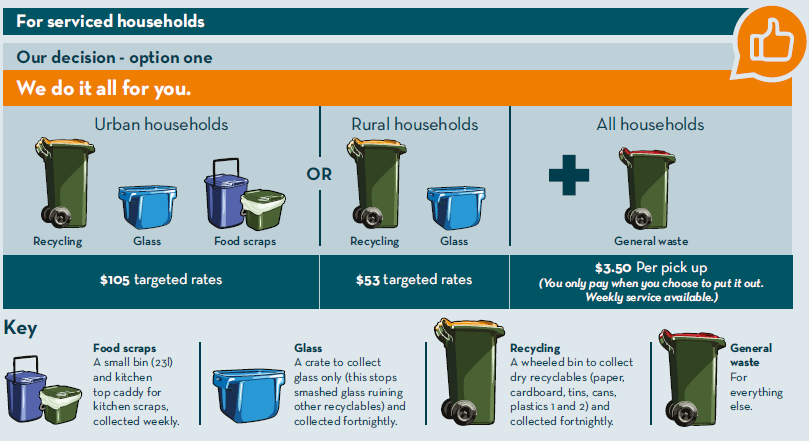 Through the consultation we received:
552 pieces of feedback
63 percent of submitters supported the preferred option.
What happens now?
Staff will begin the first steps of contracting the service by working with providers in the waste management industry to determine how the service will best serve the community. Full details will be confirmed after the tender process is complete in 2020. The service will start in July 2021.
Rural recycling drop-off points
Council will progress a trial of one rural recycling drop-off point.
This will support recycling in areas that may not receive a kerbside collection.
Rather than look to install three sites at once, it was felt that trialling the concept was the best approach. Over the next year we will engage with the local community to identify a suitable location in the east of the District. This is the area with the greatest opportunity to reduce travel times to recycling facilities. The trial is budgeted to last until 2021 when the project will be reviewed and a decision made about its future and whether it could be expanded.
As a trial, this will be funded through the Waste Minimisation Levy and District-wide Environmental Protection Rate.
Community re-use facility
Council will explore options to establish a community-led re-use facility with interested parties, such as interested community groups. We have budgeted to progress this work over the next two years, and will be funded from the Waste Minimisation Levy.
We want to make it easier to recover and re-use construction and demolition waste and encourage better diversion of useful materials. It is expected that any facility would be community-led and its running costs would be self–funding. There are similar facilities in New Zealand that could form a model for any development here.
Overview of the process and next steps
Would you like to know more?

More information on the Long Term Plan Amendment
Waste Management and Minimisation Plan (WMMP)