Omokoroa Structure Plan
Planning for the future of our peninsula paradise
In around 40 years the Omokoroa Peninsula should be fully developed and home to something like 12,000 people.
To make sure Omokoroa remains a peninsula paradise it is important that planning decisions made today are well considered to ensure that all current and future residents have a great quality of life.

An aerial view of Omokoroa. Looking towards the State Highway from above the rail line. Omokoroa Road is to the left.
Western Bay of Plenty District Council is starting to plan for the next phase of Omokoroa's development - the area between the railway line and State Highway 2 - through a document called the Omokoroa structure plan. Structure plans provide a long term framework for future growth and development of a particular area.
The structure plan takes into account the community wishes - as expressed through the Omokoroa Community Plan, the Long Term Plan and other planning documents. These acknowledge the growth of the village into a town and sets a pathway for actions that assure Omokoroa remains a great town to live in and visit.
It is important that people think about the Omokoroa of the future with 9000 new residents.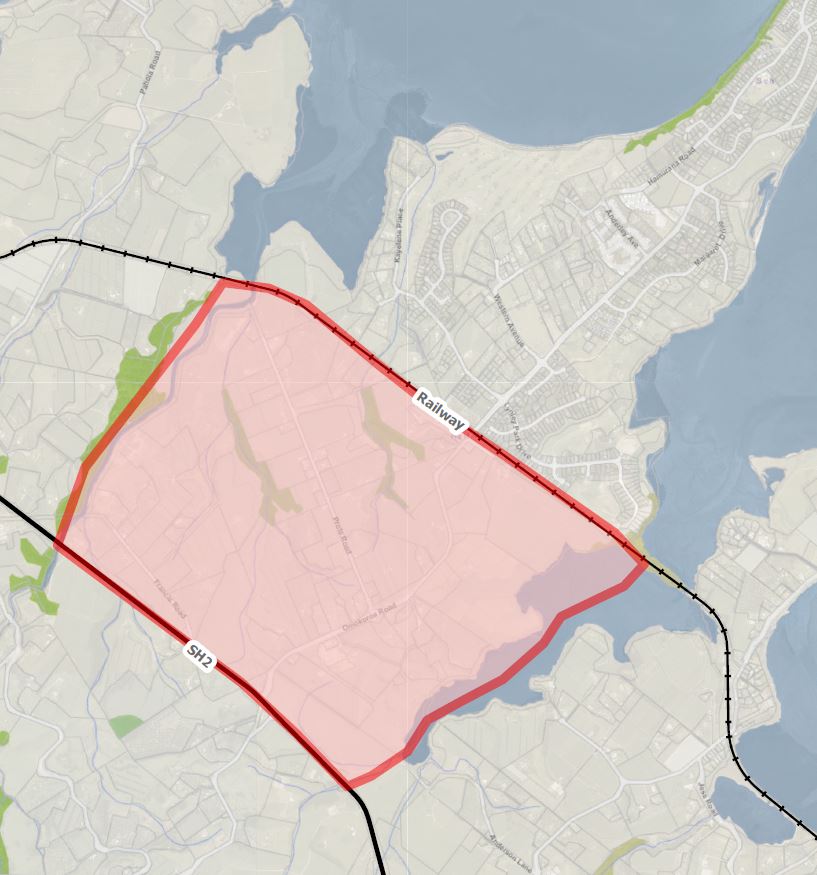 The Structure Plan area being reviewed.
When looking at the structure plan we'd ask people to visualise 2060 and think about how the peninsula will change and how planned development needs to occur to make it a great place to live, learn, work and play in.
We want to know what areas people think will be suitable for housing, where a commercial area that complements new houses and other land uses will go, to think about transport links, schools and community facilities, and what types of parks and other recreation spaces will be needed - and how these can all fit together to create a great place.
This is long-term, big picture thinking. It's essential that we do this now and get it right so we put in place development rules that mean Omokoroa will continue to be a great place to live in forty years' time. It's also important to help make sure that decisions are not made in the short term that could compromise the long term vision.
The development of the structure plan will happen in four parts:
1 - Identifying what needs to be taken into account when planning for future development. Open Days for the community to share their thoughts and give feedback were held during November 2017.
2 - Development of detailed options for the area between the railway line and State Highway. This will be based on the feedback from the open days and incorporate best planning principles.
3 - Discuss options with the community.
4 - Pick a preferred location for these key land uses and create a detailed structure plan. This will also include rules that will guide how development can occur.
Frequently asked questions:
Check out the Frequently Asked Questions
For more information find the project page on http://haveyoursay.westernbay.govt.nz/osp.