Ōmokoroa Domain Playground Upgrade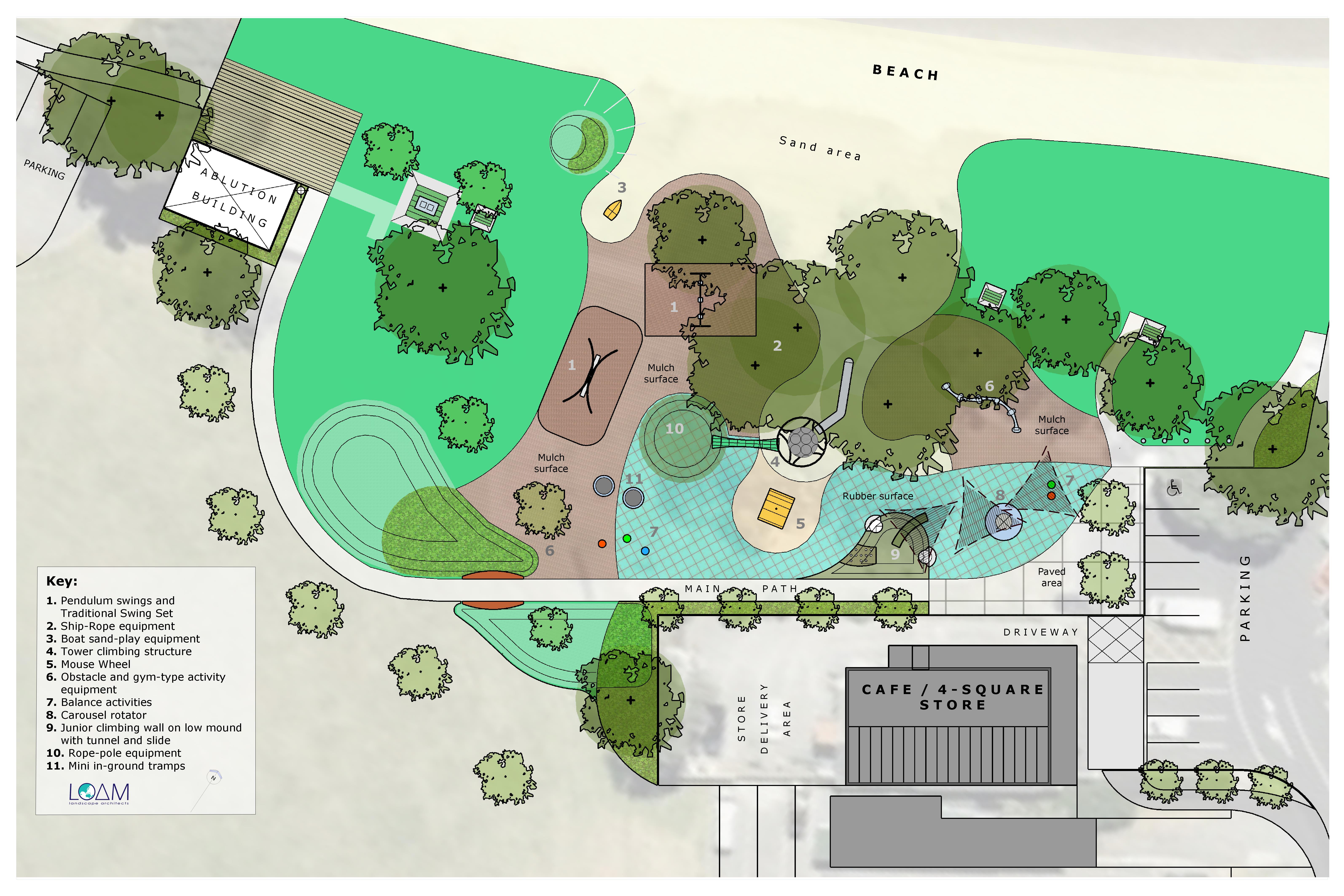 About the project
This is a $1.04 million development to revamp the Ōmokoroa Domain, including an exciting new destination playground to replace the existing outdated playground.
The new playground will include swings, trampolines, tunnels, climbing structures and a hamster wheel, creating a new recreation experience for all visitors to Ōmokoroa Domain. It will rejuvenate the main entrance into the Domain, as well as create a new fit-for-purpose destination play space, which will better serve the needs of the growing community. Work on the playground will start in April 2021 and will take 3-4 months to complete.
Other work happening as part of the Ōmokoroa Domain Concept Plan includes extra car parking, boardwalk along The Esplanade and foreshore, more picnic areas and a covered BBQ, footpaths, fitness equipment and landscaping.
The upgrade is funded through a mixture of existing asset renewal funding and capital works funding.
The Ōmokoroa Public Art Group has approached Council on their proposal to establish a mural on the Ōmokoroa Domain toilet facility. If approved, the artists lined up to design the mural will be Pam Robinson and Janine Birch. Both artists reside in Ōmokoroa and are part of the Public Art Group.
What's been happening so far?
Downer has been awarded the construction contract for the Ōmokoroa Domain upgrade.
Council followed a robust tender evaluation process, with the construction component of the $1.04 million project expected to total approximately $550,000.
Thank you to our local Ōmokoroa No 1, Ōmokoroa Point, Pahoia, Whakamarama and Te Puna schools, Pirirakau Hapū, representatives of the elderly and disability communities, and LOAM architects who have all been part of the design process.
Construction works began under Alert Level 3 protocols, including excavation work. The public are reminded to keep clear of works during this time.
What to expect next
Construction is expected to be completed in early December 2021.
News
Construction Contract awarded for Ōmokoroa Domain Playground upgrade - 28 June 2021
'Fantastical' playground coming to Omokoroa - 9 September 2020
Omokoroa new playground design released for community feedback - 23 December 2019
Students fired up with Omokoroa playground ideas - 28 June 2019
Students contribute ideas for Omokoroa playground - 10 May 2019
Omokoroa Domain plan gets green light - 23 October 2018
Community discussion starts on Omokoroa Domain upgrade - 20 June 2018