Omokoroa Peninsula Projects
By 2060, the Omokoroa peninsula will be fully developed and home to an estimated 12,000 residents.
To cater for this significant growth and the need for continuing improvements to the peninsula's infrastructure, Council is undertaking a series of projects – roading, recreation, cycleways, stormwater, building and planning – between now and 2022.
The total projects are estimated to cost $50 million, of which $14 million is co-funded by the Government under its Shovel Ready Infrastructure Programme.
The 15-plus Council-initiated projects, along with private development, and collaboration with Tangata Whenua, Pirirakau hapū; the Ministry of Education; and Waka Kotahi NZ Transport Agency; will be carefully managed to keep impacts to a minimum, however there will be some level of disruption in the community during this time, and we apologise in advance for these.
In the medium to long-term these projects will be transformational for Omokoroa. As well as creating 150 new jobs in the process, the developments will ensure all current and future residents benefit from a great quality of life and the multitude of facilities on offer.
For more information on current projects, please click on the individual project pages below. These pages will be updated regularly as each project progresses.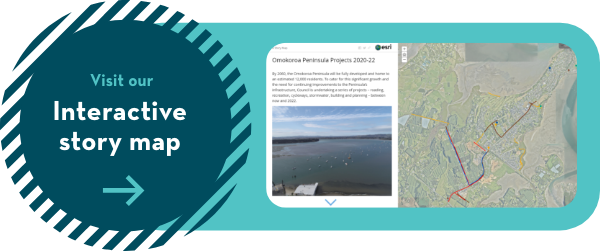 Community meetings
The Omokoroa community is invited to all public meetings to meet with Council during the course of these developments. Key dates and documents regarding these meetings will be made available here.
Upcoming meetings
Wednesday 24 March 2021, 3pm to 5pm - Omokoroa Sports Pavilion, 28 Western Avenue
Thursday 29 July 2021, 4.30pm to 6.30pm - Omokoroa Settlers Hall, 334 Omokoroa Road
Thursday 18 November 2021, 4.30pm to 6.30pm - Omokoroa Settlers Hall, 334 Omokoroa Road
Documents
Stay in the loop

We're keen to keep our local community informed on these developments. To stay in the loop on all project updates, sign up to our e-newsletter.
Contact us
Email us at omokoroaprojects@westernbay.govt.nz or phone 07 571 8008 for general enquiries on these projects.
Projects