Omokoroa Domain and Esplanade
Updated Tuesday 23 October 2018
Adopted Concept Plan
Thanks to everyone who provided feedback, through the public open day, Matakana Island hui and online survey. A special thanks to the key stakeholders and to Pirirakau and Ngati Taka for their time spent in initial workshops to develop the draft concept plans and information presented at the public open day.
On October 23rd Council adopted the final concept plan for Omokoroa Domain and Esplanade. You can download the plan here: Concept Plan(PDF 2.61MB) or view the plan in the image below. You can download the decisions story via this link(PDF 9.54MB)
Next steps
Over this coming summer (2018/19) the overflow carparking area at the north end of the Domain and extra signage will be developed. Detailed design work is under way for the playground / family area redevelopment, with work due to commence in the second half of 2019.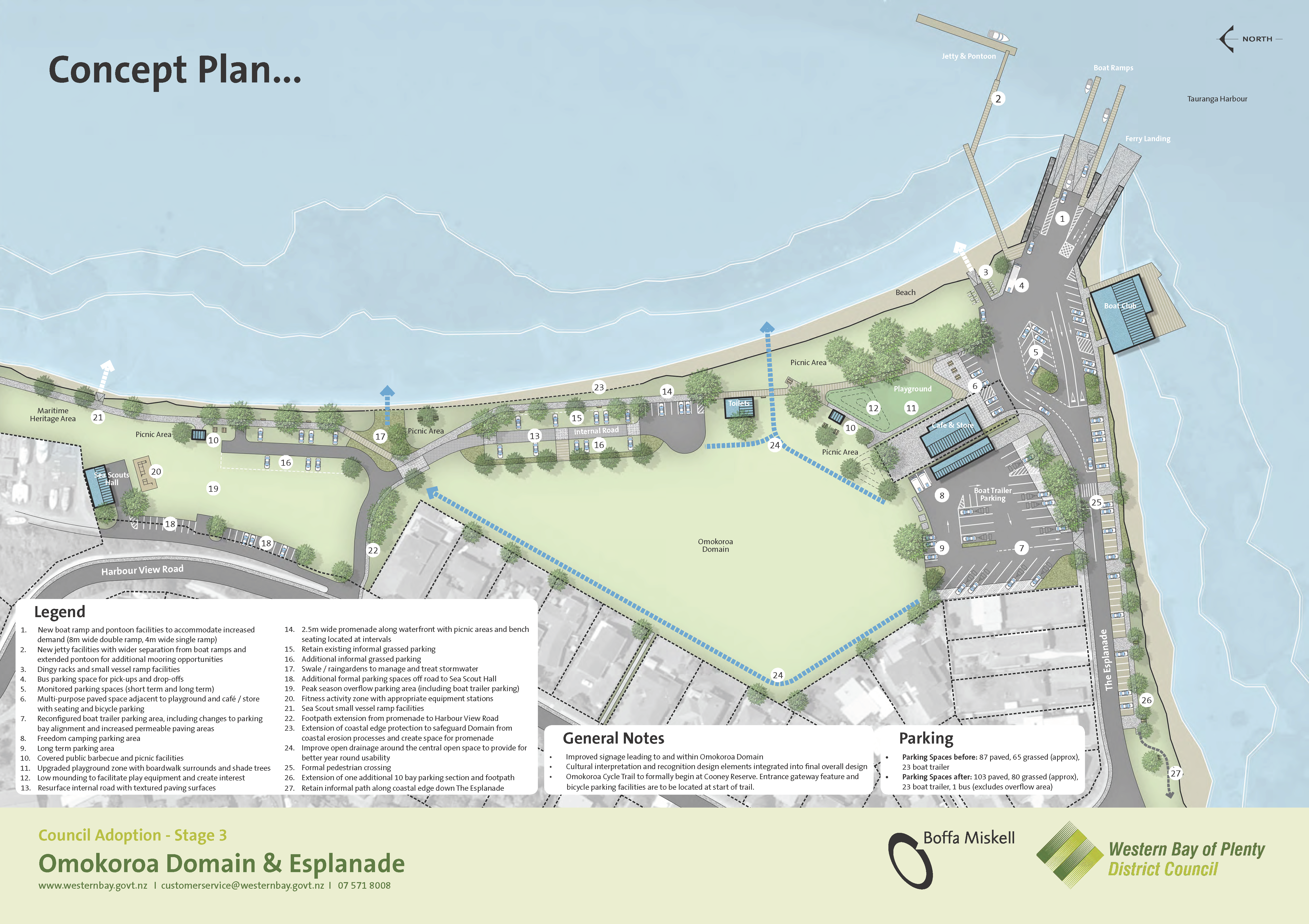 Updated: Monday 6 August 2018
Survey is now closed
Thanks to everyone who has given feedback on the Omokoroa Domain and Esplanade concept plan. The online survey has now closed.
The next step is to assess the feedback and prepare a revised concept plan for elected members to consider. Watch this space for further information and for an updated plan.
Updated: Tuesday 24 July 2018
An Alternative Idea for the Domain
An alternative plan has been prepared as an option if the shared accessway through the Domain is not favoured by the community. This plan has not been fully developed at this stage - but gives an idea for a possible different design.
Updated: Thursday 19 July 2018
Public Open Day - Omokoroa Boat Club - SaTURDAY 21 July.
Based on feedback from Domain stakeholders, Tangata Whenua and a hui with Matakana Island residents, a more detailed concept plan has been drawn up. We're asking for feedback on this plan through the Public Open Day at the Omokoroa Boat Club on Saturday 21st July.
For those who can't make the open day, you can provide your feedback by filling out this survey - https://www.surveymonkey.com/r/domainproject. This survey will be live until 3 August.
The survey sets out the design ideas and you can tick what you like, don't like, or unsure about. There's also space to add your own ideas or comments. It's a good idea to study the concept plan while doing the survey to understand what the design ideas are.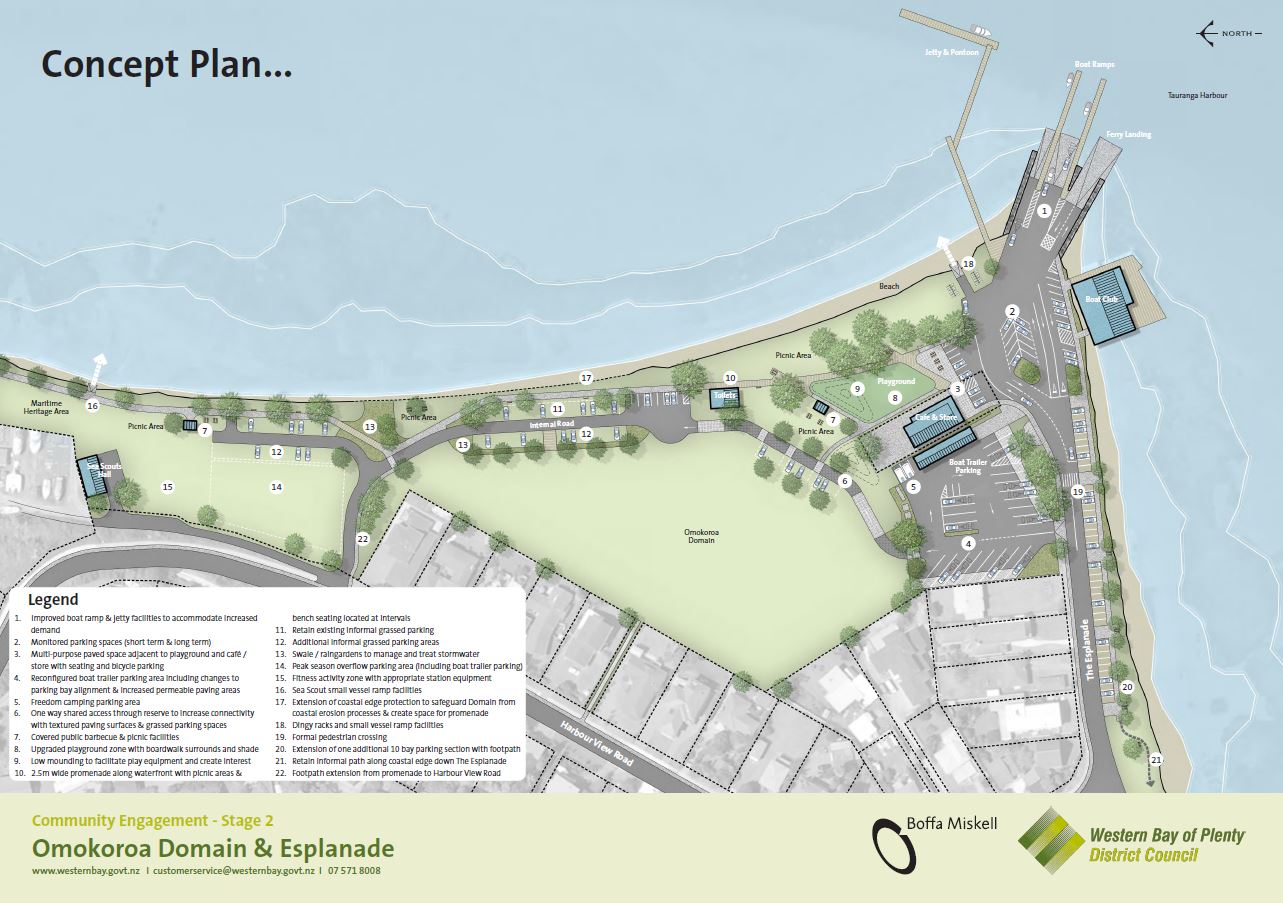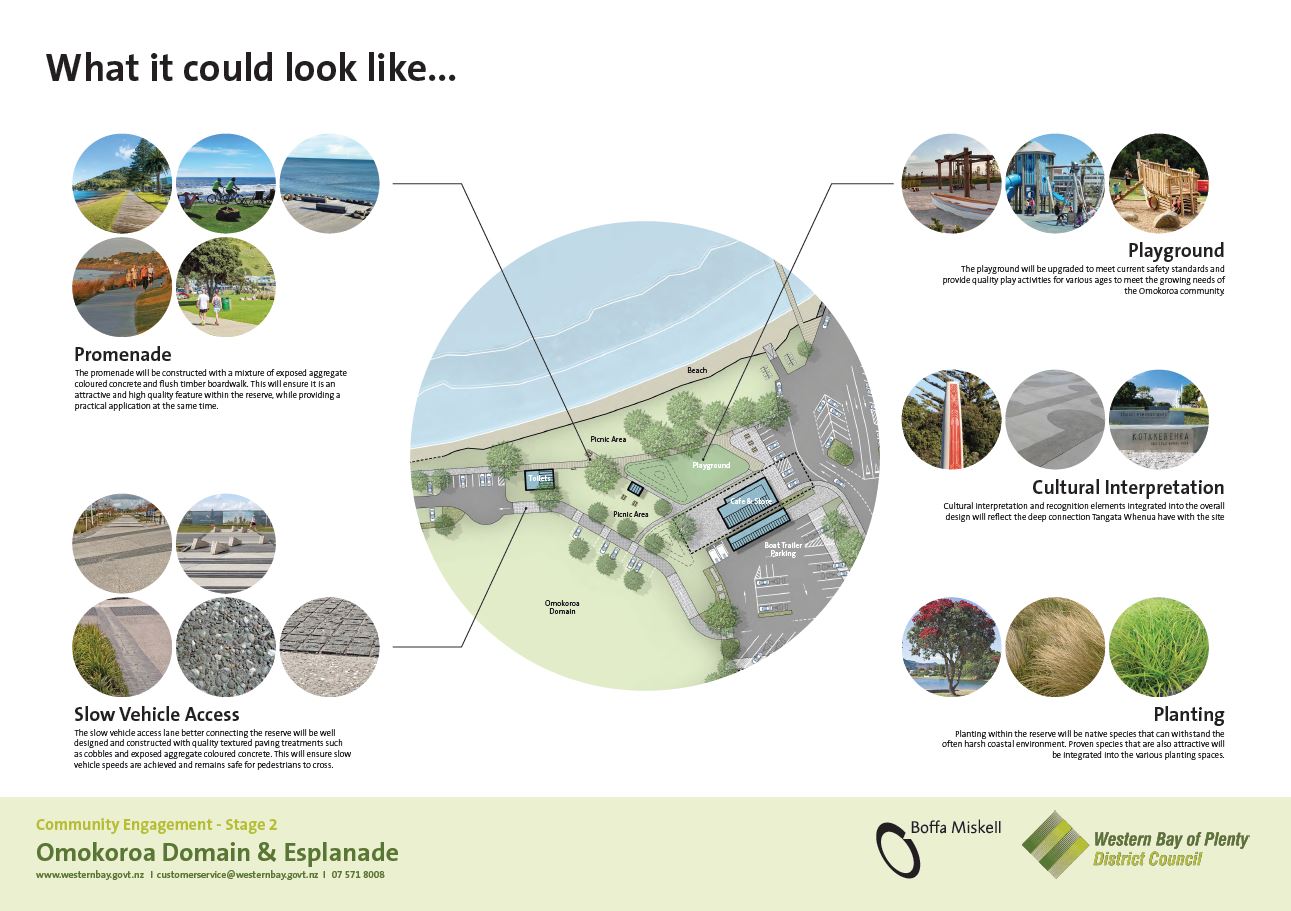 Updated: Tuesday 3 July 2018
Feedback wanted on Omokoroa Domain update - open day being held Saturday 21 July
Western Bay residents are invited to input into planned upgrades for the Omokoroa Domain.
Western Bay of Plenty District Council are looking at upgrades which aim to balance retaining the lovely character of the Omokoroa Domain and foreshore while making sure the area caters for growth and multiple uses.
Domain users are invited to have their say at an open day at the Omokoroa Boat Club on Saturday 21 July between 10.30am - 1.30pm.
Updated: Monday 18 June 2018
We're planning for the short term and future development of the Omokoroa Domain and Esplanade.
The Omokoroa Domain and Esplanade area is treasured by the community. It's a great spot for families to enjoy a safe swimming beach and park, and provides all-tide harbour access for boaties and other users, as well as ferry links to Matakana Island.
But some people are concerned about how the area will cater for the growth in Omokoroa, as there are already issues with congestion at certain times.
We want to develop the domain and esplanade in a way that protects the environment whilst providing for all the recreation and commercial activities that happen there. So we're preparing a plan for the domain and esplanade area, incorporating both short term solutions and a longer term vision for its development.
Feedback
We carried out user surveys and are currently monitoring traffic flows and use from the cameras installed in the area. You can read this feedback here (PDF, 1MB). Public open days will be held in July.
Tangata Whenua seek to have their identity and culture recognised and included through design elements, to maintain their relationship with their ancestral land and waters, and to tell their stories. An example is in the design of the proposed anchor stone to be installed near the boat club. The Hapū of the area are Pirirakau, and Ngati Taka.
Stakeholder Workshop and Initial Design Ideas
On 30 May 2018 we held a workshop on with people representing users groups and residents. We presented some initial design ideas, and the workshop gave feedback on those. The ideas presented, and the feedback from the workshop, is set out below.
We'll be holding a public open day in July to seek wider community feedback on what people like, don't like and possible solutions. We'll present the initial design ideas and solutions from the workshop in a draft concept plan.
The Group Liked

But were concerned about

They came up with some solutions

Increased Parking

- How to cater for parking for people from Matakana Island- How to reduce traffic congestion at the boat ramp.
- Develop a secure long term parking area (with lighting / cameras) at the northern end of the Domain (by Crapp land).- Develop a drop off point at the ramp area- Enforce parking at boat ramp once new long term parking is in place
- Possibly create more parking by moving freedom campers
- Tarseal Cooneys Reserve to provide location elsewhere
- Multi-level carparking building at northern end
- Reclamation for carparking


Spine Road / Boulevard for shared vehicle / pedestrian use (one way)

- How to keep children safe near road- How to manage relocation of campervans off the spine road
- Traffic calming design needed for road / shared pedestrian area- Need to be creative with the design - not just a black strip- Seasonal limits on campers, or move them to another spot eg. Cooneys Reserve
- Monitor use of the area

Upgrades to facilities, new playground, proposed walkways

- How to preserve the recreational use and green space of the Domain- How to have better utilisation of the green space
- Sort out the drainage - too wet in winter- Add some facilities to the northern end, such as a secondary playground, extra BBQ area, outdoor gym around perimeter, single basketball hoop- Build pathways, but not imposing - boardwalks like at Mount Main Beach would be suitable
- Plant more shade-providing trees
- Bring in additional sand to make the beach more appealing
- Add good signage pointing people in the direction of facilities / activities
- Create an all-tide swimming pool at the end of the Esplanade (opposite end to boat ramp)

Increased parking

- How to keep the Esplanade green - no more concrete parks for cars
- Keep it green- Bring sand into beach at bottom, and beautify- Maintain area for small boats to launch without needing to use the ramp
- Keep picnic areas
- Keep it free' for playing, fishing and relaxing

Upgraded boat ramp

- How to solve boat ramp congestion
- How to create a new boat launch ramp to relieve congestion
- Redesign ramp to include 4 ramps by moving jetty slightly to the north- Create a bigger pontoon for jumpers- Remove the central parking area at the ramp (park elsewhere)
- The spine road may help to reduce congestion
- Tidy up dinghys and access to launch area
- Leave existing barge ramp as it is
- Move the ferry down towards common area
Project timeline