​New rules for building homes in Te Puke and Ōmokoroa
We're making changes to our District Plan to enable more homes to be built faster, to support the needs of our growing and diverse community.

The changes are being driven by central government. Nine density standards (medium density residential standards or MDRS) have been formally notified on 20 August 2022 and have immediate legal effect.
These standards are being introduced around the motu (country) in relevant residential zones in major cities including Tauranga, Auckland, Hamilton, Wellington, and Christchurch. Other areas with acute housing needs may also be introducing the standards.
Within the Western Bay the nine new standards are only being applied in Te Puke and Ōmokoroa as they are the only towns that fit the brief for central government's new law, as towns with a population that is planned to be more than 10,000 people.
Council is also introducing a number of other rules for Ōmokoroa and Te Puke to ensure that everything you told us you love about your neighbourhood is protected. These rules do not have immediate legal effect and are subject to a formal plan change process. Read about these changes in detail at westernbay.govt.nz/plan-changes
What has been notified?
Housing rules, known as the Medium Density Residential Standards (or MDRS) have been notified for Te Puke and Ōmokoroa. These changes are also known as 'Plan Change 92 Ōmokoroa and Te Puke Enabling Housing Supply and other Supporting Matters'.
There are nine new standards that must be introduced to the District Plan, these are:
Up to three homes can be built per site.
Homes can be up to 11m (three storeys) high, with an allowance for the peak of the roof to extend an additional 1m. See Fig 1.
3. Homes can be close as 1.5m on the front boundary and 1m on the sides and rear.
4. Up to 50 percent of the site can be covered with buildings.
5. At least 20m2 of outdoor living space must be available.
6. The front of the house facing the street must have at least 20 percent windows.
7. At least 20% of the site must be landscaped with plants, grass, or trees.
8. There must be a minimum of 4x4m of outlook from the main living room, and at least 1m x1m outlook from all other habitable rooms. See Fig 2.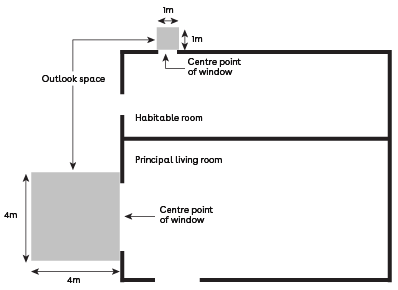 9. Height of the house in relation to the boundary must not go outside an envelope that is measured from a maximum of 4m from the boundary plus a 60˚ recession plane. See Fig 3.
The Height in Relation to Boundary Rule explained:
This rule aims to avoid new buildings on one site physically dominating another site. It also seeks to limit the impact new buildings may have in reducing neighbouring building's access to daylight. The rule ensures that the taller the proposed building is, the further away from the boundary it must be.
To comply with the Height in Relation to Boundary Rule, a building should be designed to fit within a "building envelope". To determine the building envelope, Council looks at "recession planes". Recession planes are lines that proceed at an angle from the horizontal, measured from any point 4m vertically above ground level along site boundaries.
The MDRS says buildings must be set back from the boundary at a distance where the edge of the roof is on a 60° recession plane measured from 4m vertically above ground level from all boundaries. See fig 3.
Read our 'New rules for building houses' info sheet.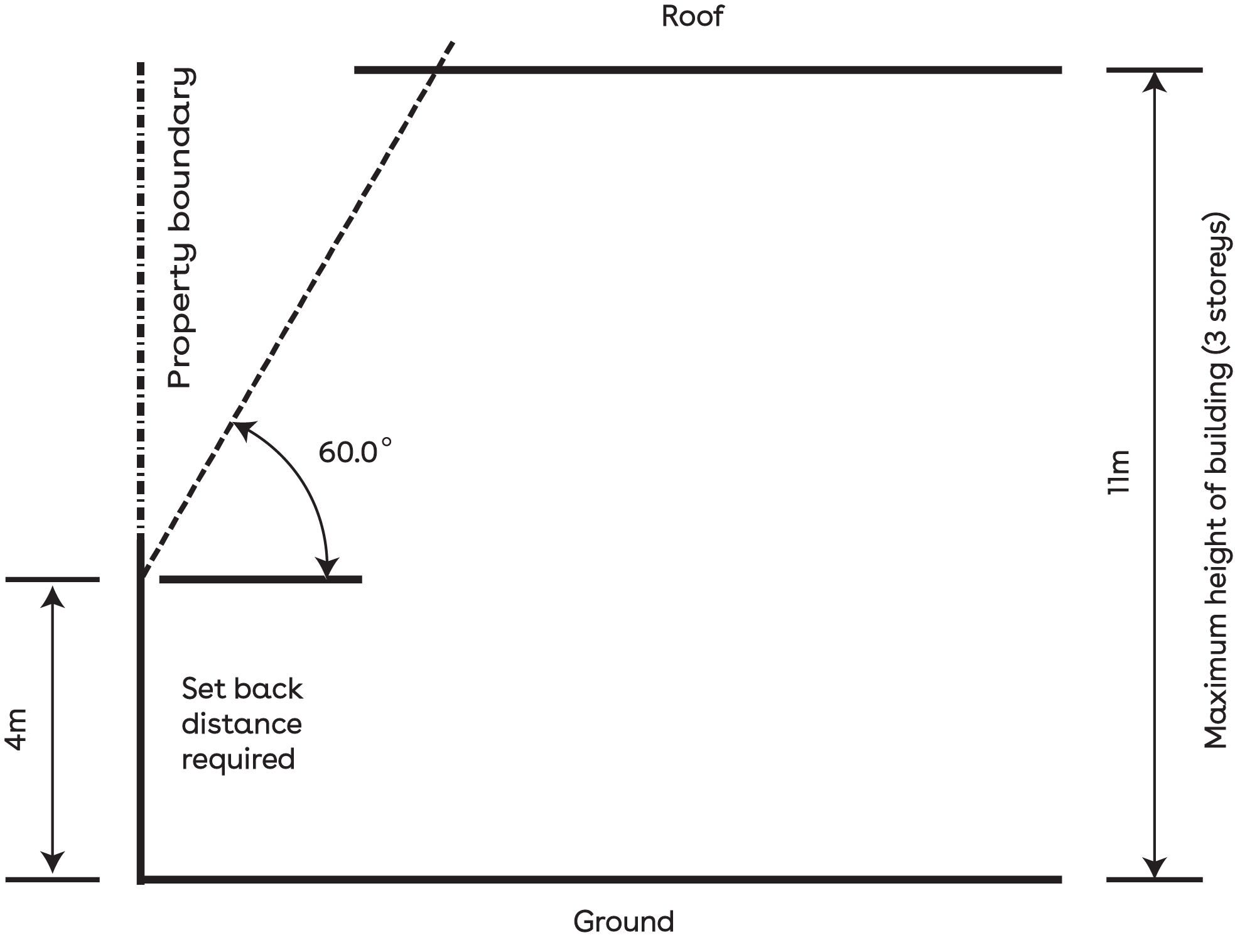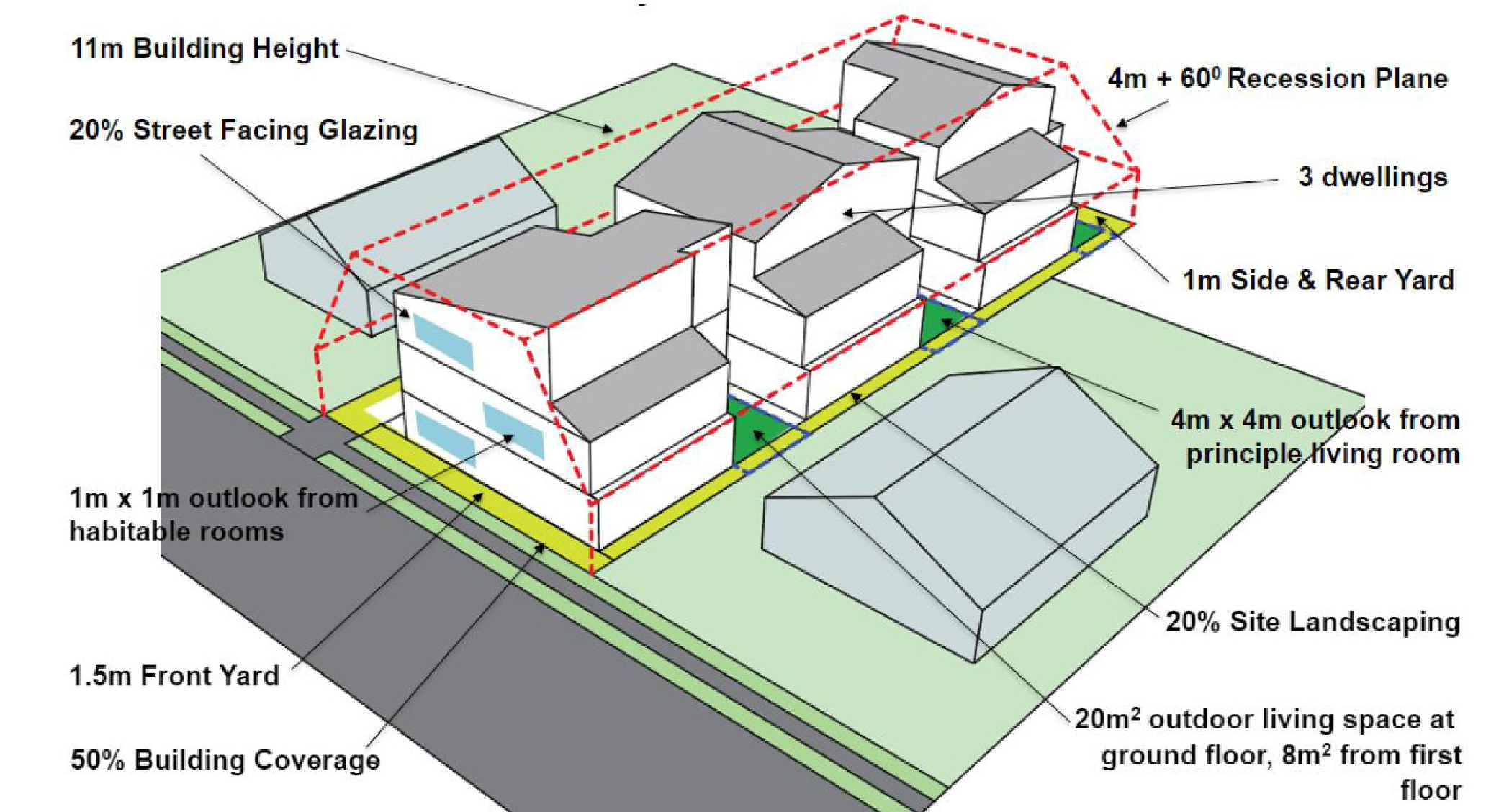 Read our 'New rules for building houses' info sheet.
Additional changes to the District Plan
In order to protect the things you told us you love about Ōmokoroa and Te Puke Council are proposing to introduce additional rules to support medium density housing. Examples include;
An impervious surface rule to help reduce stormwater runoff
A requirement to achieve a certain number of houses in new development areas to ensure we are maximising land use for housing
A mixed housing typology rule to ensure that in large development areas there will be a range of houses built to meet the needs of the community e.g., smaller 1 or 2 bedroom homes, duplex homes or townhouses
In addition to the intensification changes, we are providing for growth by adding new residential areas to Te Puke and Ōmokoroa. At Ōmokoroa we are also providing additional industrial land plus a new Natural Open Space Zone to protect the gullies, plus a large active reserve.
The new active reserve is subject to the Active Reserves Notice of Requirement (NoR) notification process.
Read about these changes at westernbay.govt.nz/plan-changes
Frequently asked questions: