2022/2023 Annual Plan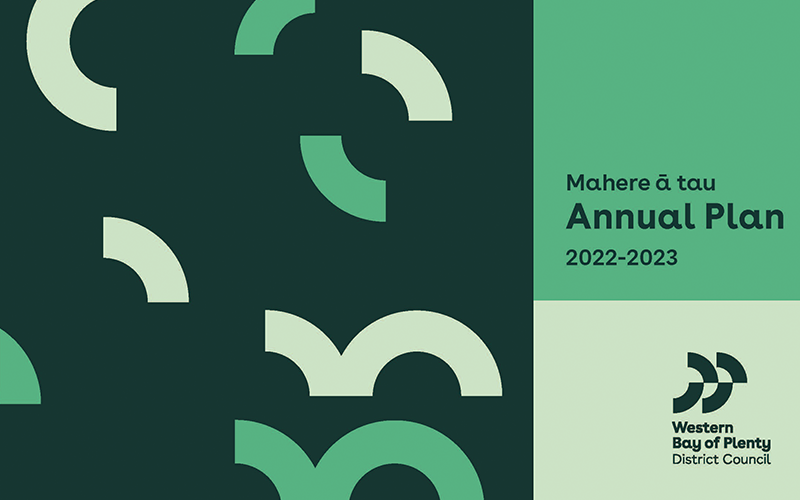 The 2022/23 Annual Plan
Western Bay of Plenty District Council adopted its 2022/23 Annual Plan and Schedule of fees and charges for 2022/23 on Wednesday, 29 June 2022.
A 3.92% increase in total rates collected was approved, which is consistent with the limit of 4% average rates increase for 2022/23, set out in our Financial Strategy.
The 2022/23 Annual Plan, the Annual Plan Decision Document, and the schedule of fees and charges that come into effect on 1 July 2022 can be viewed below.
What is the Annual Plan?
The Annual Plan is Council's updated plans for the coming financial year, setting out the work we are planning to undertake in your community over the next 12 months (1 July 2022 – 30 June 2023). This Annual Plan is year two of the 2021-31 Long Term Plan (LTP).
Through this process we consider what was outlined in the Long Term Plan and assess what changes are needed to reflect current circumstances and community needs.
Given the Long Term Plan was adopted just last year (2021), there are no big changes to what we agreed with the community through the process. The only big change that was considered affected the Pukehina Development Rate.
The Pukehina Development Rate
This year's Annual Plan consultation saw us focusing solely on the future of the Pukehina Development Rate.
Why? For 21 years we have been collecting funds towards a Pukehina wastewater scheme, but given the uncertainty around how Central Government's Three Waters Reform Programme would affect this fund, we want your opinion on what the future use of this rate should be. We have also been asked by the Pukehina Ratepayers and Residents Association to have this conversation with the Pukehina community.
So we held a specific conversation with the Pukehina community who pay this rate.
Council decided to pause the collection of the Pukehina Development Rate for two years, until there is more certainty on the Three Waters reform and what it means for the Pukehina Community. This means that the rate will be set at $0 for 2022/23 and 2023/24. Council can revisit this decision through the next Long Term Plan 2024-34 process.
This pause would mean the potential changes from the Three Waters Reform, led by Central Government, and from the Bay of Plenty Regional Council's work in the Waihī Estuary can be better understood. We can revisit this through the 2024 Long Term Plan if suitable.
We also consulted on:

Te Puke/Maketu Ward Reserves Management Plan
Seal Extension Prioritisation Policy
Maintenance of Previously Unmaintained Roads Policy
Kerbside Collection Policy
Rates Relief Policies
Sample rates charts
The sample rates charts set out the proposed rates changes for a range of property types. For specific property information, please see our property and rates search page.
Project variances by community 2022-2023