2020/2021 Annual Plan
The 2020-2021 Annual Plan
Western Bay of Plenty District Council adopted its 2020-2021 Annual Plan and schedule of fees and charges for 2020-2021 on Thursday 25 June 2020.
A 1.98% increase in total rates collected was approved, which is less than the 2.53% we had planned in our 2018-2028 Long Term Plan.
The 2020-2021 Annual Plan and the schedule of fees and charges that come into effect on 1 July 2020 can be viewed below.
Why didn't we consult?

The Annual Plan sets out in detail the work we are planning to undertake in your community over the next 12 months (1 July 2020 – 30 June 2021), and as you can see there are no big changes from what was outlined in the 2018 – 2028 Long Term Plan (LTP).
We're doing what we said we would by delivering on the promises made during the last LTP. Where appropriate, we have made some minor changes to our capital works programme and budget that reflects our decision to minimise the impact of COVID-19. At the same time accommodating as best we can feedback from our communities asking for service improvements.
We can do this because in 2014 the government made changes to the Local Government Act 2002 – one of the key pieces of legislation that dictates what councils must do.
These changes mean that Council doesn't have to follow a prescriptive and expensive process called the Special Consultative Procedure for the Annual Plan if there are no big changes or new proposals that had not been signalled in the past.
The thinking behind this change was to encourage councils and communities to place a greater focus on planning for the longer-term and making decisions that gave clearer direction and certainty to residents.
What's the Long Term Plan?
The Long Term Plan, or LTP, is the key strategic document that outlines what communities in the Western Bay want to achieve in the next 10 years and sets a pathway for Council to reach these objectives.
While we're using the 2018-2028 LTP as our roadmap for this Annual Plan, planning is underway for the 2021-2031 Long Term Plan as we review the LTP every three years.
We encourage you to share your views about the District's future direction through Hello Future District, our 2021-2031 Long Term Plan community conversation.
Your ideas and thoughts will help shape the direction this plan takes. Whether it's the things that matter to you, the challenges you expect your community to face and what we should prioritise – it all counts.
To keep up-to-date with where we're at with this process, visit www.hellofuturedistrict.co.nz
Requests received from Community Boards and groups
Please refer to the agenda for the Annual Plan and Long Term Plan Committee 26 May 2020.
Projects by community 2020-2021
For information on specific projects planned for communities across the District check out links below:
Revaluation

This Annual Plan has the added complexity of including the latest independent revaluation exercise that we must implement.
A general revaluation of all Western Bay properties takes place every three years and are used to help Council set rates. The latest revaluation in the Western Bay of Plenty District occurred in 2019.
For more information on the revaluation visit our Property Revaluation 2020-2021 page.
The 2020-2021 Annual Plan will see 61 percent of ratepayers District-wide receiving a net reduction in their rate demand compared to 2019-2020. Within this 61 percent, 70 percent are residential ratepayers.
The table below illustrates by category the typical rates movement for the median property across the District.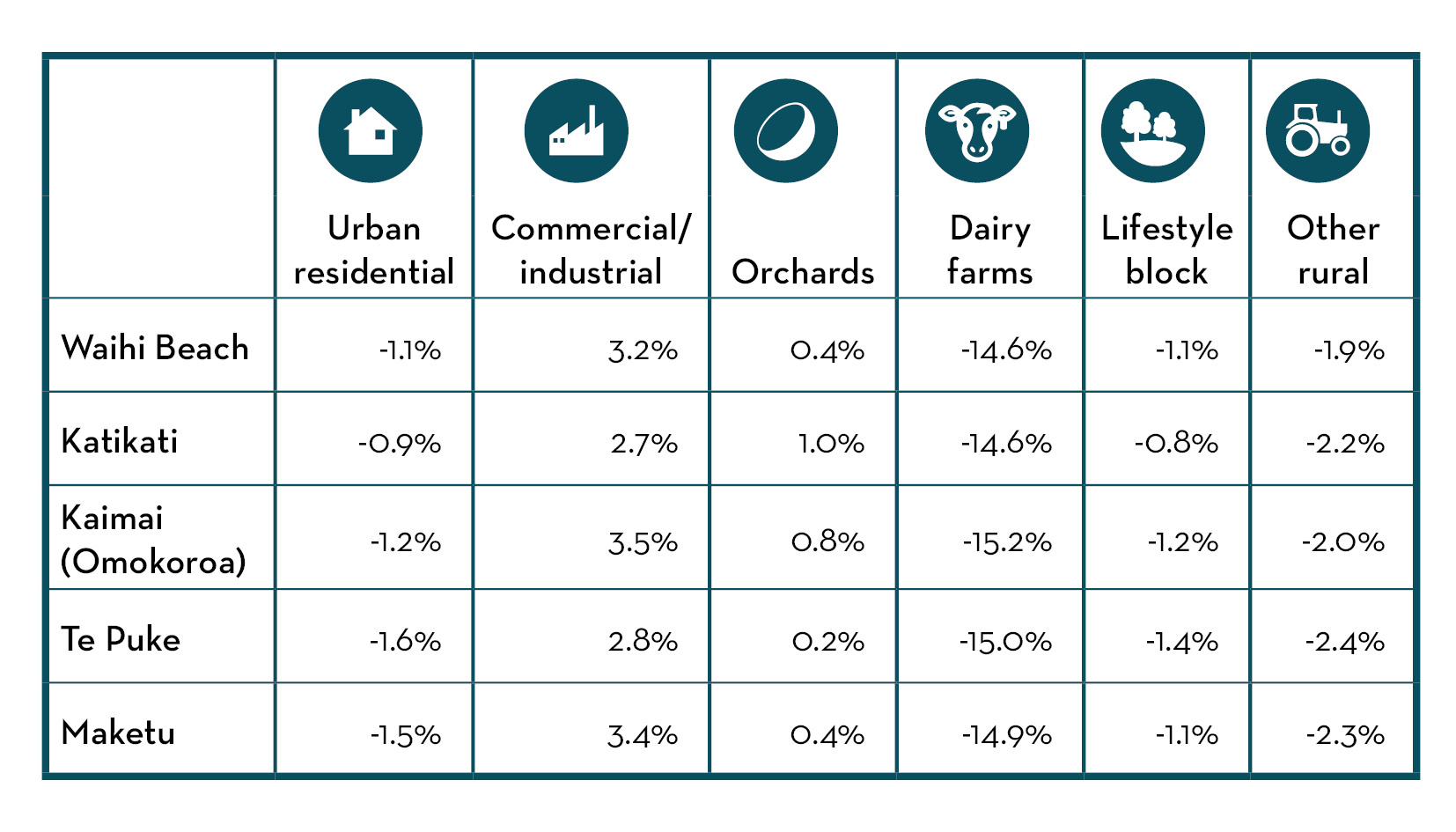 Sample rates graphs
The sample rates graphs set out the proposed rates changes for a range of property types and different parts of the District. To view the sample rates graphs please click here.
Economic Recovery Plan

As part of this year's Annual Plan, Council has also already taken proactive steps in response to COVID-19 by agreeing on an Economic Recovery Plan that focuses on working collaboratively to rebuild the Western Bay of Plenty economy as fast as possible, through immediate relief and medium to long term support.
The recovery plan outlines a range of initiatives and support, including the $300,000 Community Resilience Fund for the distribution of one-off grants to community groups/organisations severely affected by COVID-19, waiving annual rent charges for council owned reserves and buildings for 12 months for sport clubs and community organisations, and targeted rates relief initiatives.
Visit the Economic Recovery Plan.