2017/2018 Annual Plan
This year there are no big changes being proposed compared to what was outlined in the 2015-25 Long Term Plan - which was adopted in June 2015.

For this reason Council chose not to undertake formal consultation for this years Annual Plan, because there was not much to talk about - we're doing what we said we would.
The Annual Plan 2017/2018
Western Bay of Plenty District Council adopted its 2017-2018 Annual Plan on 29 June 2017 and struck a rates increase of 1 percent for existing ratepayers, which is less than the 2.4 percent we had planned in our Long Term Plan.
The total rates increase is 2.65 percent, of which growth makes up 1.67 percent.
The Annual Plan has also been arranged in chapters to make it easy for you to navigate.
Chapter Two - Activities
Leadership
Building Communities
Protecting the environment
Supporting our economy
Chapter Four - Policies and Statements
How our plans have changed and full list of projects
For the full project lists please click on the links below:
What's happening with rates?
Total rates are forecast to increase from $58.0m to $59.7m, this is an increase of 2.65% and compares favourably with the 3.70% increase previously forecast.
Depending on where you live or the property you own, the impact the revaluation performed in December has on your rates will vary.
The movements range from a decrease of 4.9% for a median value dairy farm, to an increase of 6.8% for a median value kiwifruit orchard. The following graphs have been provided to help show how this impacts you.
Financials at a glance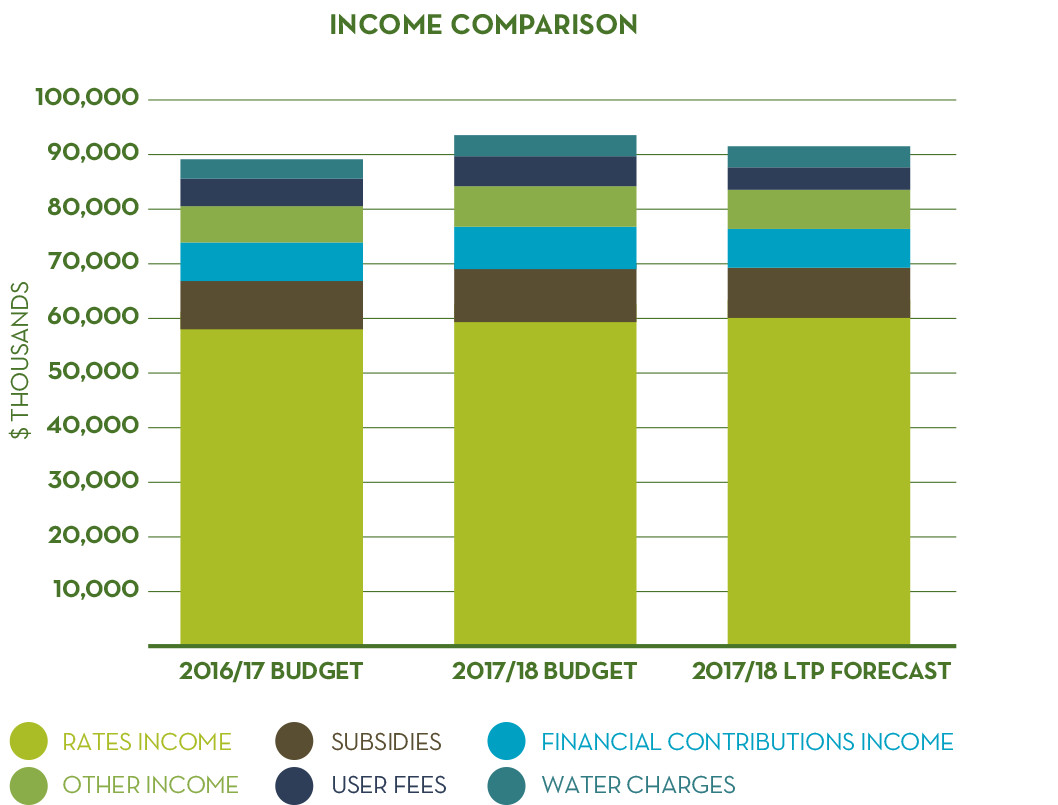 What each category in the graphs means:
Rates
Rates make up 60% of Council's income. In the 2017/18 year (1 July 2017 - 30 July 2018), income from rates is forecast to increase to $59.7m from the current $58.0m. The increase is the result of new properties in the District as well as increases to the individual rates charged. Increases in individual rates are the result of increased costs to provide our services to the current standard.
Subsidies
We receive subsidies from the New Zealand Transport Agency for roading works that qualifies for financial assistance, for example maintenance and renewal costs on our roads.
We also forecast to receive subsidies of $1.89m in 2016/17 and $1.82m in 2017/18 from the Bay of Plenty Regional Council as contributions to the Te Puna West and Ongare Point Wastewater systems which are required to be built to comply with their onsite effluent treatment (OSET) policy. The 2015-25 LTP did not forecast the Regional Council subsidy as this had not been determined.
Water Charges
Over 12,000 of the properties connected to our water system have water meters installed. These meters are read twice per year and each property is billed for the water they use. By the end of the 2017/18 it is expected that all properties in the District connected to our water system (approximately 15,500) will also have a water meter.
User fees
User fees are those fees charges for specific services we provide for example resource and building consents as well as dog registration fees.
Other Income
The balance of our income is made up of rent, interest of investments and assets that are vested to us after subdivisions are completed.
Operational Expenditure
Operational expenditure are those costs associated with delivering the services provided such as maintenance contracts, consultants and legal costs and staff salaries. As the size of our assets increase so does the cost of maintaining them. In 2017/18 they are forecast to rise because of the increased development activity anticipated.
Capital Expenditure
Capital expenditure required to maintain our assets and build new ones to cater for growth. 2016/17 and 2017/18 have relatively high capital expenditure forecasts due to the growth being experienced in the district and some key projects such as the Katikati library and community hub build as well as Te Puna West and Ongare Point Wastewater systems.
It is our philosophy to provide just in time infrastructure for growth. This has led to many growth projects being deferred over the last three years, now that growth has returned those projects are required to be completed to meet the demands for services such as water, roading and sewerage.
Depreciation
Depreciation expenditure represents the reducing life of an asset with the passage of time. For example, a road bridge may have an estimated life of 50 years before it needs to be replaced. This is a significant cost and the forecast has increased from 2016/17 to 2017/18, this reflects the increase in the value of our assets as well as assuming ownership of the Te Puke Highway, formerly State Highway 2 from the New Zealand Transport Agency.
Interest Expenditure
Interest costs on our borrowings which have been used to pay for assets. You can see that the forecasts are lower than the 2015-25 LTP and this reflects the reduced debt balances.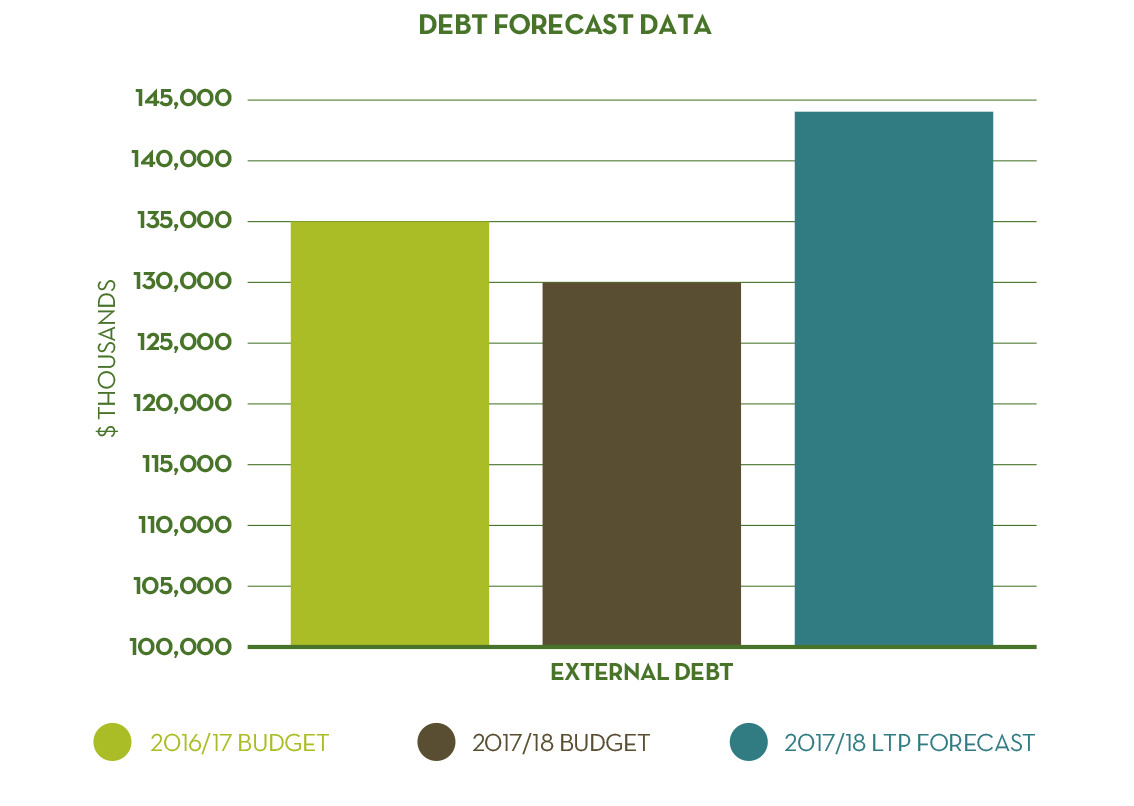 This graph shows Council's Debt Forecast
As many of the assets we build are expected to be used over the next 20 to 100 years, we cannot rate for it all at once. In order to finance this expenditure we need to borrow from the banks to do this.
The graph shows the forecast debt balances for the current 2016/17 year, the 2017/18 year and the Long Term Plan forecast for 2017/18. As you can see the movement is a positive one, with debt expected to be $19m lower than the Long Term Plan Forecast.
The reduced balance is the result of project deferrals, improved financial contribution and user fees income and savings made on the One Network Maintenance roading contract in 2015.
By not consulting, isn't that a bit different to what's happened in the past?
Yes it is. In 2014 the government made changes to the Local Government Act 2002 - one of the key pieces of legislation that dictates what Councils must do.
These changes mean that Council doesn't have to follow a prescriptive and expensive process called the Special Consultative Procedure for the Annual Plan if there are no big changes or new proposals that had not been signalled in the past.
The thinking behind this change was to encourage councils and communities to place a greater focus on planning for the longer-term and making decisions that gave clearer direction and certainty to residents.
The Long Term Plan (LTP) is the key strategic document that does this. It sets our roadmap for the next three years and looks out as far as 10.
Planning is underway for the 2018-2028 Long Term Plan and we will be keeping you updated on how you can get involved and how it may affect you over the next 15 months.
What's the LTP?
In a nutshell, the LTP outlines what communities in the Western Bay want to achieve in the next 10 years and sets a pathway for Council to reach these objectives.
This year however, we're getting on with what we said we'd do.
Council has a number of projects that are currently underway. These include:
Kaimai Ward
Omokoroa Road roundabout
Special Housing Area
Greenwaste - We'll be discussing options with the Omokoroa community soon
Te Puna wastewater system
Te Puke/Maketu Ward
Te Puke Hall seismic strengthening
Katikati/Waihi Beach Ward
Katikati Service Centre, Library and Hub. Construction will be completed in the 2017/18 year.
Ongare Point wastewater system
District-wide projects include:
Road seal extension and widening
District wide water metering project in the western supply zone (Katikati to Waihi Beach)