Traffic Bulletin: Update on SH2 Tauranga to Waihī works
Roading
Waka Kotahi NZ Transport Agency advises the following works through State Highway 2 (SH2) Tauranga to Waihī during the coming weeks, these activities will be subject to weather.
Retaining walls are being constructed between Apata Station Road and Esdaile Road from Tuesday 16 August. For the safety of road users, our crews on site, and to provide enough space for large machinery there will be a Stop/Go in place outside of morning and evening peak traffic from 9am-4pm for around three weeks. This is likely to cause minor delays of up to five minutes.
Light vehicles can take an alternative route via Wainui South and Esdaile Road, this will be clearly signposted via mobile VMS boards and is likely to take less time to travel. Take extra care as the route is narrow and winding.
People driving through the following areas are asked to plan ahead and follow the sign posted speed limits.
Detour map below.
Further details of our current work sites and traffic management in place are listed:
Waihī to Ōmokoroa safety improvements:
Athenree Road to Tanners Point Road – Road widening works continue throughout the week. Motorists can expect minor delays of one to two minutes.
Tanners Point Road to Tuapiro Road - Road widening works continue throughout the week. Motorists can expect minor delays of one to two minutes.
Rea Road / Tetley Road Intersection – Roundabout construction underway. There are currently no right turns to Tetley Road and limited right turn options to Rea Road. Detours routes are available, please follow the signs and directions of the traffic management team. Expect minor delays of one to two minutes.
Morton Road Intersection - Roundabout under construction. Closing the passing lane is necessary to enable temporary traffic management for the safety of road users and road workers during the construction phases. Expect minor delays of one to two minutes. Once Morton Road roundabout is complete the passing lane will no longer meet the required safety requirements and will be permanently closed.
Apata Station Road to Esdaile Road – Lane shifts for power relocation. Stop/Go in place 9am-4pm most days to provide workspace for machinery constructing the retaining wall. Expect five-minute delays.
Takitimu North Link Stage One:
SH29 / Takitimu Drive Toll Road - A reduced speed limit of 80km/h is in place while our contractor's crews are working behind the barriers. As part of the service relocation works, we will be carrying out directional drilling work under SH29 / Takitimu Drive Toll Road from Tuesday 16 August. A reduced speed limit of 30km/h will be in place and a Stop/Stop while drilling is in progress. Stop time will be for approximately one minute and then the traffic will be allowed to travel through the area again. This will happen three times per day for one week starting 16 August between 9am and 3pm. We appreciate your cooperation during this time.
Kopurererua Valley - A section of the pathway was temporarily closed from June while service relocations take place along the eastern side of SH29 / Takitimu Drive Toll Road. The work is planned to be completed by September. A detour is in place to the alternate track parallel to the closed section and signposted for track users. On the western side another section of the track closed permanently earlier this year.
Cambridge Road – Works will continue behind the barriers.
Harrison Road - Asphalting of the new Harrison Road temporary entrance from Cambridge Road will be carried out later this month. Reduced lanes and Stop/Go in place when near road edge.
Wairoa Road – Reduced speed of 30km/h continuing, may have occasional Stop/Stop for large vehicle access for the bridge construction works. If you are driving towards Bethlehem from Wairoa Road, we encourage you to use the underpass at Wairoa River Bridge, to avoid a right turn onto SH2.
Minden Road – Services connection works will continue for the rest of the month requiring various traffic management including shoulder closures to Stop/Go. Anticipated to be minor disruption.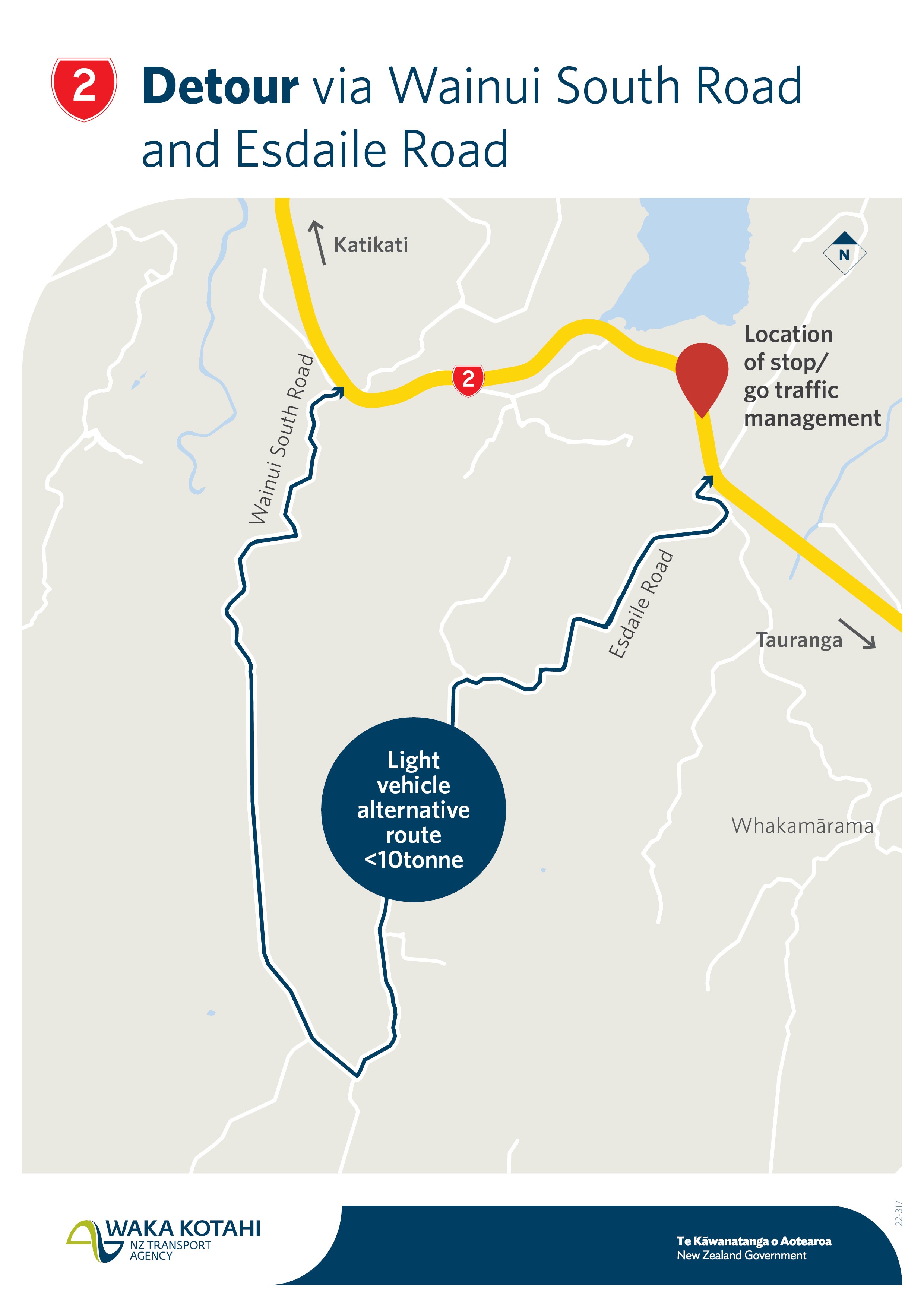 Some of the above works are weather dependent and may be postponed in the case of poor weather.
For up-to-date information on road works, traffic, detours and delays, drivers are encouraged to visit the Waka Kotahi Journey Planner website.
Waka Kotahi thanks you for your patience while we complete this essential work to make our state highways safer and more resilient.