Same look, new design for kerbside pay-as-you-throw tags
Increased durability, reliability and anti-copying measures are some of the key features of Western Bay's newly redesigned pay-as-you-throw (PAYT) tags.
Western Bay of Plenty District Council has taken on community feedback and redesigned our unique PAYT tag so it functions better with our red lid rubbish bins.
Council library and service centres are now offering the newly designed PAYT tags, while local retailers will have them as soon as existing stocks run out.
You can still use any existing PAYT tags you might have, we don't want any existing PAYT tags to be wasted in the changeover.
New PAYT tags will continue to look and work in the same way. The redesign is focussed on addressing a few improvements including:
New tough material that can withstand UV, rain and wind
New easy release design that reliably breaks as the bin is emptied
Anti-copying watermarks that show up when the PAYT tag has been copied
There are no changes to the kerbside collection system. You still need to correctly put a PAYT tag on your red rubbish bin – through both red and black handles on the red bin - for it to be emptied. At this stage the recommended retail price - $3.95 – also remains the same.
Council's Deputy CEO and General Manger Infrastructure, Gary Allis, says the new and improved PAYT tag will make our residents lives a little easier.
"The new design ensures the tag stays on when it's meant to – no more blowing off in bad weather. And it'll break off when it's meant to – and fall straight into the truck. The new anti-copying features will also make it very clear when someone is trying to pull the wool over our eyes.
"We know the PAYT tag system is a little more work, but we believe it's a good balance for our community as ultimately the choice rests with you. You only pay for the rubbish you generate – as often as you need – rather than a flat fee for everyone.
"This system might not be perfect but it empowers people to reduce their waste, and rewards them with savings. And we're proud to be using a model that prioritises your pocket and the environment."
If you have a new PAYT tag, the method to attach it is similar to a luggage tag. We've moved away from the peel and stick design as they stick where they shouldn't, and don't reliably release when needed.
Here's how to apply the new PAYT tag.
Write your address on the tag
Feed B end through the black and red handles on side of bin
Open the cut at B and feed A end through
Lock your tag in position at C
Place bin facing the kerbside by 7am on your collection day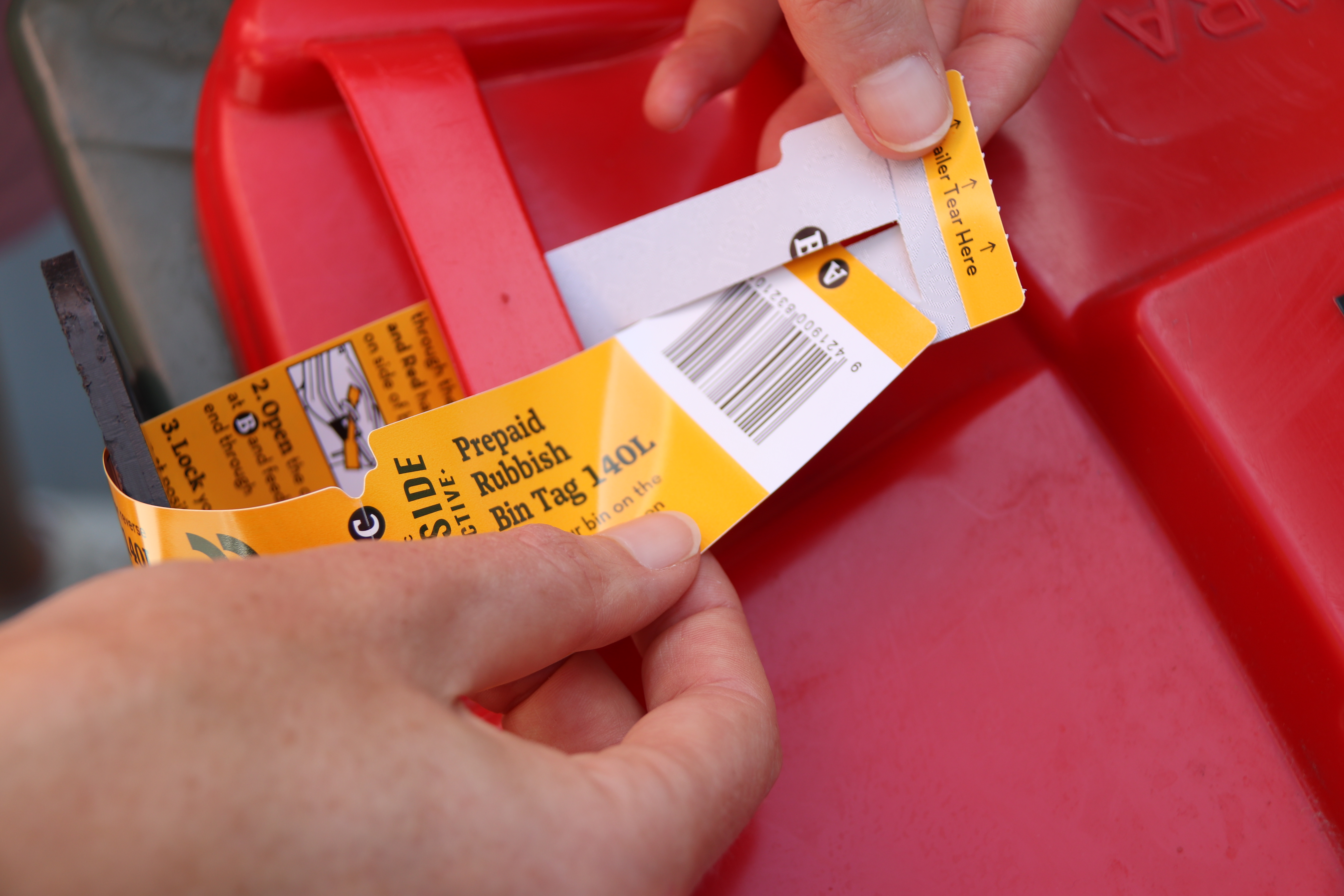 It's extra important that you make sure you have fixed your PAYT tag correctly. If there's no PAYT tag, we won't empty the bin.
These new tags will be a big improvement, but there are some things we can't control, including theft. However, there are a few things that you can do to discourage would-be PAYT tag thieves.
Write your address on the new PAYT tag in the allocated space.
Make sure your bin is in a highly visible spot where it's easy to see if someone tampers with the PAYT tag.
Put your bin out on the morning of collection (by 7am to ensure you don't miss pick up).
Gary says, "At the end of the day – we want to help people to reduce waste to landfill and these little changes make the system a little more robust and fairer. We're grateful to everyone who let us know about a problem they were having with the original design, so we could fix it."
For more information, PAYT stockists and frequently asked questions, visit the Kerbside Collective website kerbsidecollective.co.nz