Kerbside grace period wrapping up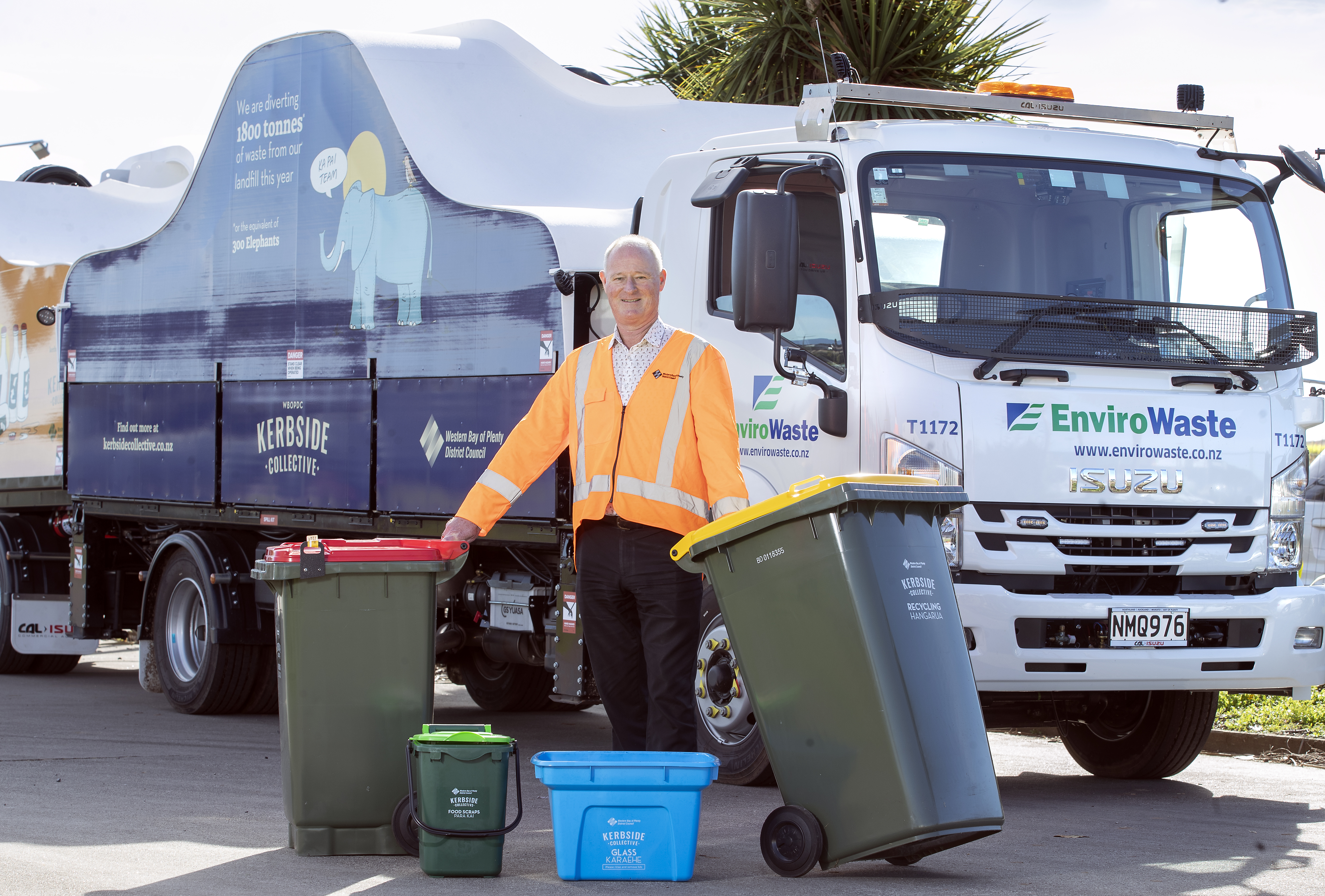 Council's kerbside collection grace period will wrap up this week following a 10-week education programme.
Western Bay of Plenty District Council put the grace period in place to give residents time to learn and adjust to the new rubbish and recycling service and pay-as-you-throw (PAYT) tag system following the 1 July start date. In this period contractors have been applying educational red tags to bins with an incorrectly attached PAYT tag, providing a helpful guide for people to refer to.
Council's Deputy CEO and Group Manager Infrastructure Services, Gary Allis says "Our wider Western Bay whānau really stepped up to the challenge. Over the last 10 weeks we've seen the majority of our residents grow to understand how the service works. So, it's time to transition into what will be our standard service."
Up until now red tagged bins were still emptied, but from Monday 27 September, we will transition to a service where bins with incorrectly fitted (and missing) PAYT tags won't be emptied. Initially, educational tags will still be placed on non-compliant bins to let residents know why and demonstrate how to correctly use the PAYT tag. This will be phased out after two weeks.
Gary says, "We had a nice, long educational period where we expected residents to learn as they went along and they've done a great job, but there is always room to improve."
Gary says applying PAYT tags correctly has been a sticking point "If you are putting your red lid rubbish bin out for collection you must have purchased a single use PAYT tag and attach it by looping it through the two handles (red and black handles).
"If your PAYT tag doesn't go on properly it won't come off properly. It seems a few people are peeling off all of the backing for the PAYT tags and the tags are sticking to bin handles. The tag must break free and fall into the truck on collection."
Gary's how-to for attaching PAYT tags
Loop your PAYT tag through the black and red handles together on the side of the bin.
Peel off the orange circle for joining the tag.
Join the front and back circles by sticking to the 'stick here' circle.
Place your bin on the kerbside by 7am on collection day.
Please don't
Loop through only one handle
Peel off all of the backing
Bins will not be collected if:
Bins are filled incorrectly. If you are not sure what item goes in which bin, use our item search finder here.
The driveway is blocked or hidden by trees.
Waste in bags or boxes beside bins.
Your pay-as-you-throw tag is not attached correctly. For example, it is only looped through one handle instead of the red and black handle.
Bins are not Western Bay of Plenty District Council bins or are third party bins.
Helpful resources
Not sure what items goes in what bin?
Use our handy item finder kerbsidecollective.co.nz/item-search/
When do I put my bins out?
Try our collection day finder kerbsidecollective.co.nz/collection-day/
Where can I purchase pay-as-you-throw tags?
For a full list of locations visit: kerbsidecollective.co.nz/payt/
For more information, visit kerbsidecollective.co.nz
About the Kerbside Collective
Western Bay of Plenty District Council's kerbside rubbish and recycling collection service services nearly 17,500 eligible households.
The rates-funded service is designed to increase the amount of material diverted from landfill by about 60 percent – around 1800 tonnes a year. On average each household District-wide produces about 640kg of waste per year, 380kg of this could be recycled.