Tauranga and Western Bay achieve Welcoming Communities national status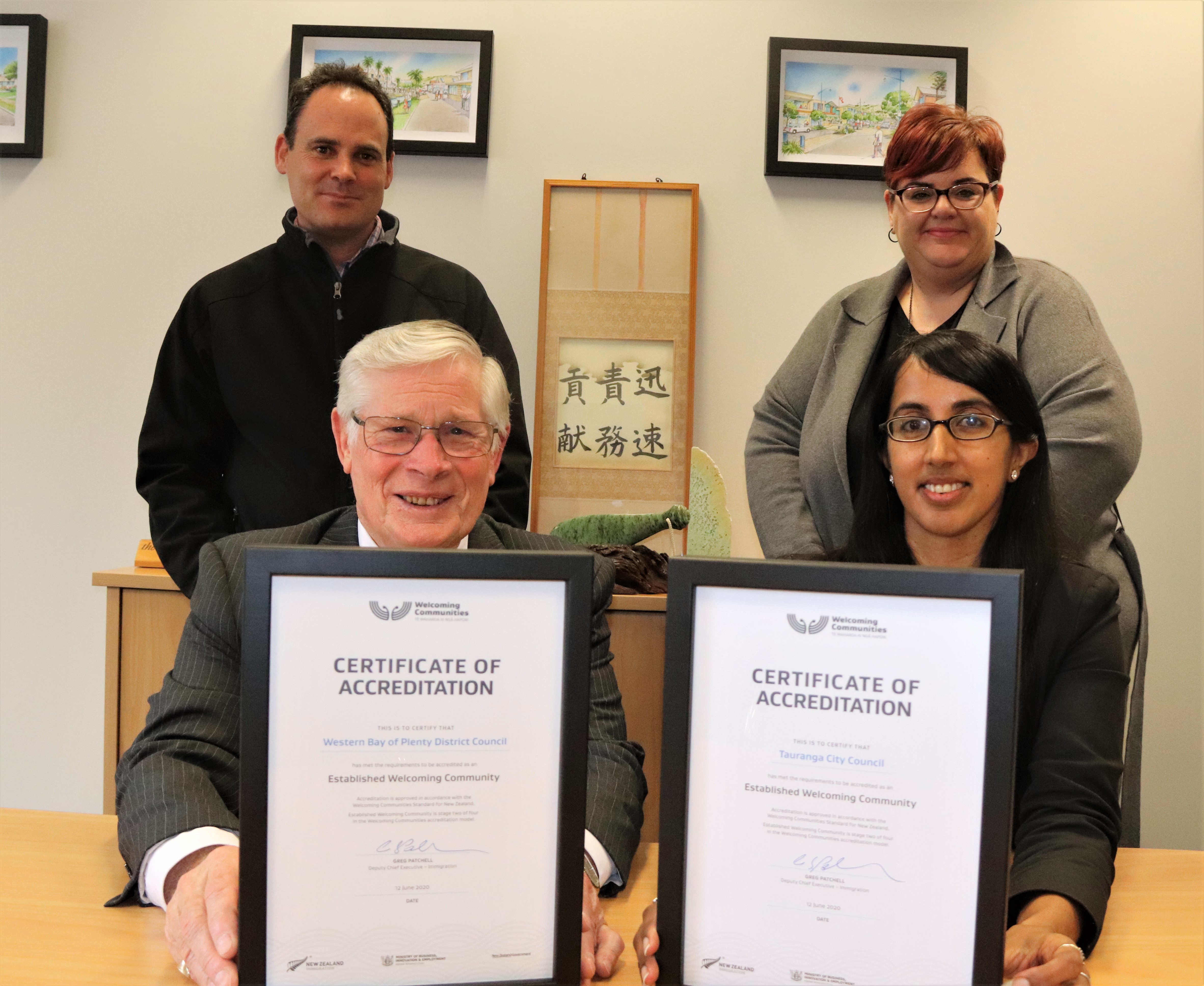 Western Bay District and Tauranga City councils have achieved further recognition from Central Government for their great work in fostering cultural diversity and understanding through the Welcoming Communities programme.
The councils have gained accreditation by Immigration New Zealand as an Established Welcoming Community – a status that acknowledges the efforts of both councils and communities to welcome newcomers and create an inclusive environment for all ethnicities.
The latest accreditation is the second of four levels and comes on the heels of the programme's success in February this year when it earned national recognition after a two-year pilot in the Western Bay and Tauranga communities.
Accreditation as an Established Welcoming Community is further testimony that the two councils and their communities are creating a welcoming and inclusive environment for migrants in the Western Bay.
Events such as the Katikati Festival of Cultures, New to the Bay Expo and Celebrating Cultural Diversity programme are examples of the councils' commitment to celebrating the region's diversity of cultures.
The accreditation also recognises the efforts of Welcoming Communities to build relationships across tangata whenua, mana whenua, iwi and hapū throughout the region.
Mayor Garry Webber says Welcoming Communities has taken a leadership role in raising awareness of the region's ethnic diversity and in so doing has inspired communities to be involved in cultural activities that have deepened understanding.
"The programme has helped enhance the community spirit that makes the Western Bay such a welcoming place. This latest achievement further cements the value of Welcoming Communities as a platform to build diversity, strengthen cohesive and connected communities and for migrant communities to showcase their cultural identity through celebrations such as Katikati's Festival of Cultures."
Tauranga City Council Mayor Tenby Powell says a hallmark of a strong community is its openness to diverse cultural influences.
"The Western Bay's accreditation to the Welcoming Communities programme is a great achievement and speaks to our commitment to foster diversity and make people from different cultures welcome here.
"We can all take pride in that and do our part to ensure that we make newcomers, wherever they are from, feel valued, safe and at home."
Immigration New Zealand General Manager of Refugee and Migrant Services, Fiona Whiteridge, says the recognition is well deserved.
"The councils and their communities have worked hard since they first joined the programme in 2017. They've shown commitment to creating an inclusive and welcoming environment where all residents can thrive and belong. We're delighted they have gained formal accreditation as an Established Welcoming Community and we look forward to working with them further."
The assessment panel congratulates the seven councils and their communities for embracing the Welcoming Communities programme.
The other accredited councils are:
Palmerston North City Council
Ashburton District Council
Invercargill City Council
Gore District Council
Southland District Council
The Welcoming Communities programme has been run by the Tauranga and Western Bay councils since 2018, led by coordinator Haidee Kalirai.