Western Bay recycling trial comes to Pongakawa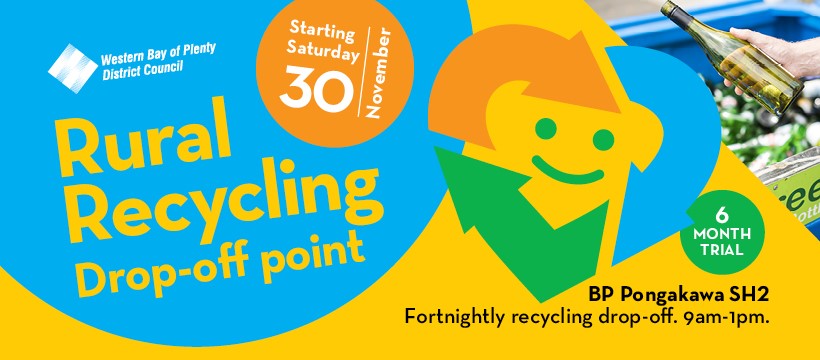 Recycling for rural residents, near Pongakawa, just got easier thanks to a rural recycling trial programme coming to their neighbourhood.
Western Bay of Plenty District Council is launching a six-month trial of a manned trailer to take domestic recycling, 9am-1pm every second Saturday at BP Pongakawa.
Starting 30 November, users will be able to recycle; glass (bottles and jars), plastic (#1 and #2), tin and aluminium cans, paper and cardboard (flattened). No whiteware, oil or green waste will be taken.
Council's Resource Recovery & Waste Team Leader Ilze Kruis says the trial follows Council consulting, through the Annual Plan in 2018, on the proposal to introduce a rural recycling drop-off point.
The intention was to make it easier for rural communities to be able to recycle of which 76% were in support of establishing rural recycling drop-off points.
The east of the District was chosen to run the trial as this was seen as the area with the greatest opportunity to reduce travel times to recycling facilities.
"We are always looking at alternative recycling and rubbish collection models to achieve better oversight and management of solid waste and recycling throughout the District," explains Ilze.
"We'll let the recycling do the talking to see if there is an appetite for further recycling drop-off centres.
"A big thank you must go to Wayne Parry and the team at BP Pongakawa for joining the cause and allowing Council to use the premises for the trial. With its easy access off the state highway it is a perfect fit."
Considering submitters' concerns around illegal dumping, the trailer, manned by local waste minimisation company Waste Watchers Ltd, eliminates litter and rubbish as the site is manned and mobile.
Waste Watchers Ltd Director Marty Hoffart says running the trial for the mobile recycling centre is a really progressive move.
"Not many councils around the country have done something like this, by taking the collection out to the rural community.
"There is a need and a demand in rural areas, so this is a great initiative to provide rate-payers with more opportunities to recycle."
As a trial, this will be funded through the Waste Minimisation Levy and District-wide Environmental Protection Rate.
Rural Recycling Trial Fortnightly Dates
30 November 2019
14 December 2019
28 December 2019
11 January 2020
25 January 2020
8 February 2020
22 February 2020
7 March 2020
21 March 2020
4 April 2020
18 April 2020
2 May 2020
16 May 2020
30 May 2020
Have your say
How is the trial at Pongakawa going? Let us know your thoughts through this quick survey. This will help us determine whether we should be creating additional recycling drop off points in rural areas around the District.
You can have your say until 31 May 2020.