Meet Our People
Our organisation is a reflection of our communities. Let's meet a couple of our people and see why they love our Western Bay whanau: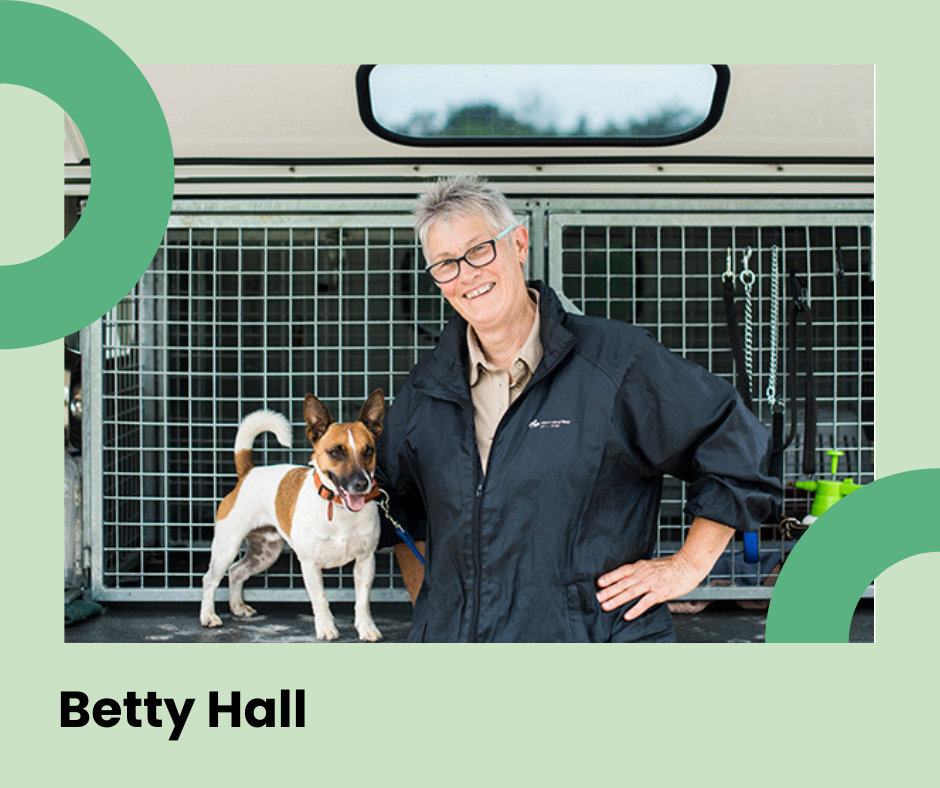 Kia Ora, Betty!

Say "Kia Ora!" to the Council, and Kia Ora to Betty Hall (and her pooch, our Council spokes-dog, Alfie)! Betty is one of our Animal Welfare Officers, and she's been working at the Council for 33 years.
She loves dogs, and she loves people, and thinks the best part about her mahi is combining both. While some of her work involves enforcement, her favourite part is education. She finds it really rewarding informing whānau about dog behaviour and giving them the tools to form meaningful bonds with their furry friends. But she does admit there are hard days where she goes home upset and finds pride in making sure the animals that she works with get the best care when they are with her.
Her mahi also led her to Alfie. Alfie's name was inspired by Christmas, which is when he arrived at Council with a fractured leg. He moved in with Betty as a foster dog, but Betty gratefully recalls the Council staff pooling money together to help pay for his treatment. He now permanently lives with Betty and her whānau on a farm, and he's the leader of his home pack of four dogs. The well-trained pup comes to the Council regularly and is a hit with the staff, and even speaks on command.
A Western Bay local who was born in Te Puke, Betty's happy place involves woodwork, and she enjoys making and repairing stuff. She believes the past two years, through COVID-19, has taught her that gentleness is strength under control, adding that it's more satisfying to be gentle with dogs and with people too.
Kia Ora, Betty!
Kia ora, Syed!
Say "Kia Ora!" to the Council, and Kia Ora to Syed Qadri! Syed is one of our Customer Service Representatives.
Syed's happy place is his family, including his extended family, and his community from his home country, Pakistan. He moved to the Bay in 2013, and loves being a part of the community and Council whānau. Syed thinks the best part about his job is the people: helping people solve their problems and working alongside supportive colleagues.
Syed is an active member of the community, a proud member of Toastmasters, and a boot camp exercise enthusiast. In his spare time, he spends lots of time checking in and hanging out with his loved ones. He does admit that he used to be shy, but his values of inclusiveness led him to become more engaged with people, learn about the world, and take up a job that serves the people of the Bay.
He says the three words he'd use to describe his job are "everyday is different," and says his favourite thing about working for the Council is being someone who makes a difference.
Kia ora, Syed!
Kia Ora, Sophie!
Say "Kia Ora!" to the Council, and Kia Ora to Sophie Scholes! Sophie is a Technical Support Officer – Monitoring.
Sophie and her whānau hail from the Gold Coast, and she describes her happy place as being back across the ditch with her family. She has lived in the Western Bay for about a year and believes the best part about her mahi is the diversity that every day brings and the supportive colleagues she is surrounded by.
Sophie describes her job (which entails monitoring resource consents, processing food and health-related registrations and supporting with inspections) as positively challenging, fun, and varied. However, she admits that 10 years ago, she didn't ever see herself moving to Aotearoa New Zealand. She also says she did not anticipate working in the field she does now.
If she could speak to her younger self, she'd tell her to say yes to everything and to keep travelling; but also assure her that you don't have to stick to the path you thought you once would.
When she's not at mahi, Sophie enjoys hitting the pavement for a run or a walk, and she loves socialising with friends.
Kia ora, Sophie!